Espesyal Komiks #165 Cover


Artist Uncertified (possibly Nestor Redondo)
February 2, 1959
It's August, and I've finally worked out the difficulties I've had with the Online Comics Museum. A month ago, I've had to move the entire content of Komikero.com to Alanguilan.com for various reasons I won't bore you all with. I still own the domain name "Komikero.com" although there's no longer any webspace to house content within it.
The main Komikero.com page can still be accessed, but all links from that page will now point to content housed within Alanguilan.com. It's unavoidable, but it unfortunately means all exisiting links, including the old museum address, will no longer work.
The new museum address will now be
museum.alanguilan.com
. But don't go there as there's nothing there yet. Although I've already worked out the problems associated with it, the work of fixing all the links and re-uploading all material to Alanguilan.com remains. The museum may seem to work right now, but there's a lot of things wrong with it. I should be done with all the work towards the end of August, when I'll be relaunching it with a ton of new material.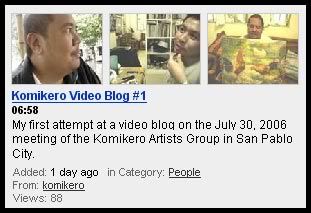 I really had a lot of fun working on my first video blog. The only equipment I had were my Sony 5.1 Digicam, a screwed up tripod, Windows Movie Maker and Director Pro LE, which came bundled with my CD Rom. My camera is enough, I think, for You Tube, but seeing as how I really enjoy doing this stuff, I really see myself doing relatively more complex video presentations in the future. I'm seriously considering getting an actual video cam, and upgrading my computer to handle the immense amount of space and memory that video editing would require.
That way, I can make these little documentary things, and the subject I really want to focus on would of course be Philippine Comics and its creators. A few people have already suggested I do interviews with our veteran komiks artists, and yes, that's definitely part of my plan. I'll also be doing more video blogs on our Komikero meetings, and events like the Komikon. I'll also be doing little clips on working on Elmer and Humanis Rex. Most likely I'll be able to do at least two of these a month. I could do more, depending on the free time I have.
All this is made possible of course, by
You Tube
, which I believe is fast becoming the new TV. I couldn't do more of these videos before because I kept running out of bandwidth, but with You Tube, that problem has been eliminated. I plan on settling for good on the site, as long as it's online. I've set up a "
Komikero Channel
" in there, which you can visit by clicking
here
.