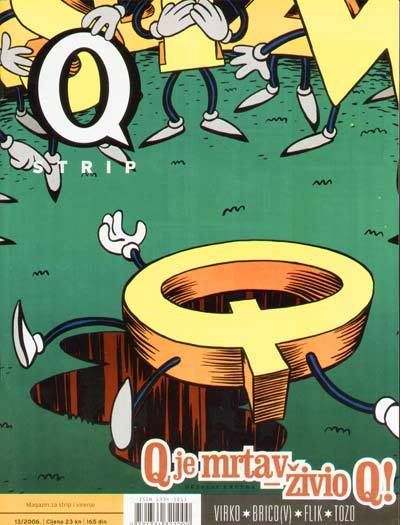 It was thrilling when I opened this envelope that arrived from Zagreb, Croatia the other day and saw this comics magazine, Q Strip. It features one of my stories, translated into Croatian!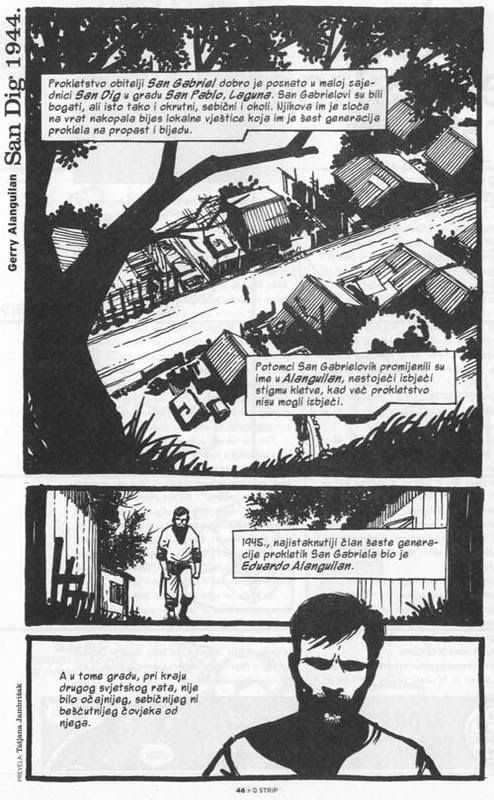 How cool is that?
It's a magazine edited by comics writer Darko Macan, who invited me to contribute to it a couple of months ago. He specifically asked for my San Dig, 1944 story from Siglo: Freedom. Since it will be translated, and posed no direct competition to Siglo: Freedom in that part of the world, I agreed. Of course, getting paid for it was an added bonus!
Much gratitute to Darko. Thanks man!
It also features an article about, I assume, Philippine comics and my work...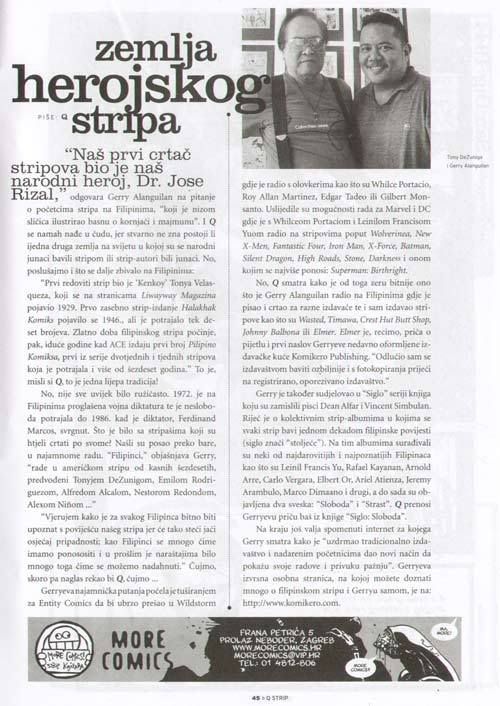 I'm still tickled pink thinking about it, and more and more I'm starting to realize the possibilities of having my work published in Europe. It would be really cool if that happens.
I also received another package from France from a friend of mine over there, with a bunch of French comics, including a magazine with new work from Moebius, and oh man... the kind of art they're doing over there I find unbelievably inspiring. I don't understand a word of it, but just looking at the art is enough for me.

Read or Die Convention
What follows is forwarded from the Secretariat of the Read Or Die Convention. I'm posting it here for those interested in what it is. I'll be there for the full 2 days.
+

Come to RODCON 2007-- a two-day literary convention organized by READ OR DIE INC. in partnership with POWERBOOKS. we seek to bring together readers, writers, publishers, government and school organizations and book dealers to highlight the importance of reading and literacy in building an open world for every filipino through books.
The event will take place on FEBRUARY 3 and 4, 2007 at the HOTEL INTERCONTINENTAL (AYALA AVENUE, MAKATI CITY); the convention will be open from 9AM to 8PM daily. all proceeds of the event will be donated to AHON FOUNDATION. the event is supported by the NATIONAL BOOK DEVELOPMENT BOARD, the DEPARTMENT OF EDUCATION and UNICEF.
Event Information (Taken from
http://rodcon2007.blogspot.com
)
Function Room Events Directory The British Council of Manilawill be presenting Roger Robinson from the UK performance poetry group "Apples and Snakes" back-to-back with local poets Kooky Tuason (of Romancing Venus) and Juddha Paolo. From the British Council press release:
The UP Creative Writing Institute and UMPIL will be hosting panels on contemporary Philippine fiction, oral poetry, literary translation and regional literatures and creative non-fiction which will be hosted by writers and academics Jun Cruz Reyes, Teo Antonio, Bobby Anonuevo, Romulo Baquiran, and Abdon Balde, among others. A full list of Likhaan and UMPIL writers who will be coming to the convention will be posted later.
The Goethe Institut will be presenting a panel on German literature featuring Professor Susanna Lenz (from the Department of European Languages, UP Diliman). The incoming Goethe Institut Director will also be introduced to the public in the panel. The Goethe Institut be exhibiting collections from their library in RodCon.
The National Book Development Boardwill be hosting a poetry reading featuring celebrities from popular TV show Super Inggo and their campaign "Get Caught Reading." A tentative list of attendees includes Miriam Quiambao, Herbert Bautista, and Christine Bersola-Babao.
Renowned historian Dr. Jaime Veneracion of UP Diliman and SAMPAKAwill be headlining a discussion forum on historical writing. The Dean of the Islamic Institute of UP Diliman Dr. Mashur bin-Ghalib Jundam and selected faculty from the Institute will be speaking on Filipino Muslim literary traditions.
The New Worlds Alliance will be presenting three speakers during their function room event:
* "Anatomy of a Villain: The Will to Power and the 'Chosen Destiny'of He-Who-Must-Not-Be-Named." (Frances Sangil, Pinoy Harry Potter)
* TBA (R.E. de Leon, The Philippine Order of Narnians)
* "Would JRRT Approve of Sending More Troops to Iraq: The Themes of War and Peace in LOTR." (Cristina Montes, The Philippine Tolkien Society)
*This listing is very incomplete; there are a lot of other groups and publishers who have not confirmed their topics or speakers for the convention but who will be attending.
Exhibits The National Book Development Board will be previewing their latest poster campaign "Get Caught Reading" in a selected gallery in the convention.
Gerry Alanguilan of Komikero Publishinghas lent us his collection of pulp magazine and vintage comic book illustrations for display. Watch out for this.
The Goethe Institutwill also be displaying their collections.
We had planned to host an exhibit of Nick Joaquin material courtesy of the UP Filipiniana Library.However, due to the fact that the Main Library is currently cataloging and indexing their collections for the UP Centennial Celebrations in 2008, loans of rare material to outside institutions have been proscribed. We will be displaying facsimile prints and showing several slide shows of the National Artist collections in the Library, however.
We will also be exhibiting a set of rare books (signed, unsigned, specially bound, limited and first editions) courtesy of Mr. Jasper Ong of Avalon Books.A few of the titles include signed books by Neil Gaiman, Umberto Eco, Chuck Palahniuk, Gregory Maguire, Nick Hornby, Anthony Bourdain, Marisha Pessl, Jeanette Winterson, Arthur Golden, and much more.
Live Performances The Alitaptap Storytellers, headed by president Manolo Silayan, will be performing onstage on February 3 and February 4 at RodCon 2007. The performance on Saturday will take place at 5:30 PM while the Sunday performance will be held at 3PM. Details to follow.
The Cultural Center of the Philippineswill also be staging production numbers on both days. Details to follow.
Good news for Star Wars aficionados:The Philippine chapter of the
501st Legion will be making an appearance in RodCon on February 3. The Stormtroopers will be mingling with guests and convention attendees for pictures and signings. Be sure to come to RoD so as not to miss this opportunity :) Members of the Jedi Order will also be appearing on February 4. With much thanks to Rej and Paolo of the New Worlds Alliance for arranging this for the convention attendees. The New Worlds Alliance will also be exhibiting at the convention (and selling select books and merchandise from their collections) so be sure to drop by.
Raffles Each convention attendee will be entitled to one raffle ticket for the RodCon book raffles (which will be drawn periodically throughout the convention on stage). Prizes include an awful lot of books, comics, artwork, gift certificates and merchandise. We will also be holding special raffles wherein you will have to buy tickets in order to participate. For instance, Avalon Books has kindly donated a signed limited edition hardbound copy of Neil Gaiman's "Anansi Boys" for such a raffle. Proceeds will go to our charity beneficiary. Thanks once again to Mr. Jasper Ong.
Portrait of the Filipino as Reader Once again, all convention attendees are encouraged to participate in Portrait of the Filipino as Reader.All you have to do is bring photos to the convention which follow the contest theme and register them at the Secretriat desk, after which they will be displayed on our community wall for judging. Winners will receive special prizes. :)
Pinoy Readers' Choice Awards If you haven't voted yet, please do so now. :) The deadline for voting is on January 31, 2007. We also have a special announcement to make with regard to our Pinoy Readers' Choice Award ceremony this year as well as news of the 2008 Awards in the forthcoming (and last) edition of this newsletter. Thank you to everyone who has voted and participated in the awards!
Book Swaps and Book Donations We are reminding convention attendees to please bring your old/secondhand books to either swap or donate in the convention. The swap will be conducted on the principle of (more or less) equivalent trade. If you bring one book to swap, you will receive one book in return. The more books you bring, the more books you get.
Donations are very much welcome. We can't say it enough. Donated books will be re-routed to charity foundations and other book drive organizations (like RockEd, A Better Chance Foundation, and Books For The Barrios).
Attending RodCon 2007 We've prepared a set of guidelines re: how to make your way in RodCon 2007. Please take a moment to read these guidelines in order to ensure a hassle-free convention experience. We will also replicate these guidelines in our program guide along with the list of our convention policies.
Online Pre-Registration Closed While online pre-registration has ended, you can still buy RodCon tickets at pre-registration rate until January 31, 2007. Please note that we only have a limited number of tickets on sale. If you have not bought your tickets yet, please proceed to your nearest Powerbooks outlet. We will stop selling tickets in our partner bookstores on January 31, 2007. While tickets will still be available during the convention itself, they will be sold at registration rates.