Mar Amongo and the Komikero Anniversary
Komikero Artists Group, formerly known as the Laguna Artists' Group celebrated it's 2nd year today. This year we spent the day exploring the University of the Philippines in Los Baños. The group got together around 9am, and waited until we were all complete. Joining us this month were
Rene Enriquez
(artist and photographer),
Jonas Diego
(writer and comics illustrator),
Johnny Danganan
(installation artist and farm tyrant),
Henry Anima II
(comics illustrator),
Jerald Dorado
(comics writer and illustrator and terror to deers everywhere),
Ryan Toledo
(artist and the nightmare of High School kids everywhere),
Rod
Andres
(artist),
Geoff Borgonia
(comics writer and illustrator) and ME! Jonas and Johnny acted as our "tour guides" as we walked around the HUGE campus and pointed out what buildings we passed by, with interesting and sometimes sordid stories behind them.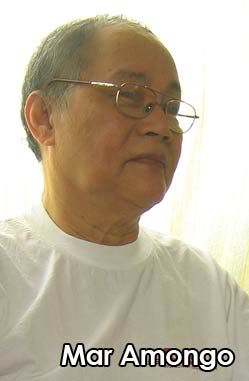 Johnny and I left the group for a short while to visit
Mar Amongo
with whom we had an appointment with at 11am. Mar Amongo is a comics illustrator and painter, who has worked in comics since the 1960's. He worked on comics novels like Bruldo Grajo and has worked for DC in the 70's and early 80's on titles like
Weird War Tales, Ghosts, All Out War
and
GI Combat
.
In the Philippines, Mar is most famous for the numerous paintings and murals he has done, including a painting of Jose Rizal and other Philippine heroes for the Philippine Centennial Movement which one can see blown up and erected all over the country.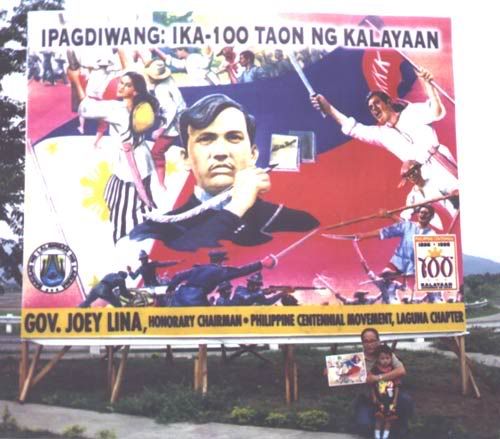 Mar Amongo with a grandson posing in front of his work, while holding the original.
We briefly interviewed him for his profile for the komiks art book, as well as for the website. I was able to gather enough material for his profile in the Museum which will be up soon. Thank you sir!
We returned to the group waiting at UP and we had our lunch.
Jac Ting Lim
joined us later in the afternoon just as we were exploring the Botanical Gardens. I didn't realize another one of our members, Jepoy Hilario, had been calling me on the phone, but I wasn't able to hear it until I took my phone out of the bag to check. By then I didn't have a signal (the gardens are pretty covered by land masses and trees) there and wasn't able to reply and direct him to us.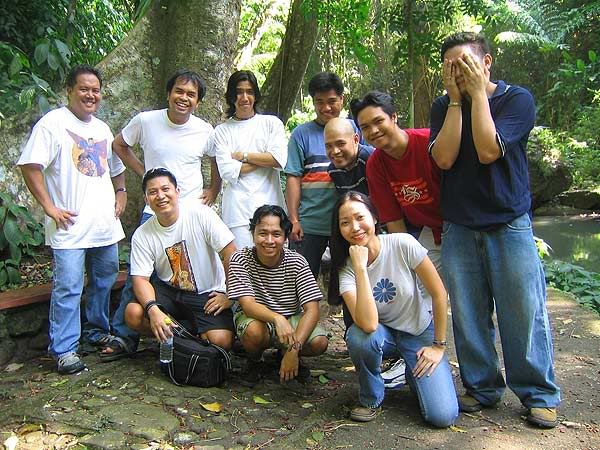 At the Botanical Gardens
Standing from Left: Gerry, Johnny, Geoff, Raipo, Rod, Henry, and Jerald (ashamed at what he did to the deer)
Kneeling from Left: Rene, Jonas, and Jac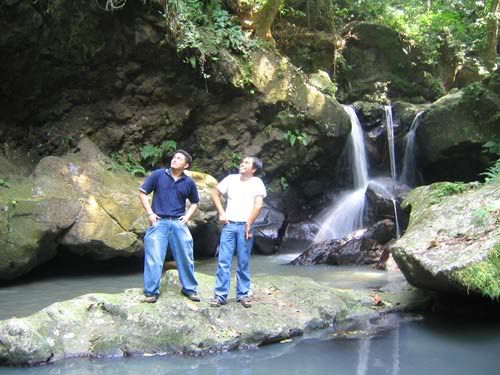 Jerald and Johnny embarrasing themselves in front of the falls in the Botanical Gardens
We then proceeded to the Raptor Center, home to the country's rarest birds and eagles, including our greatest and most popular, the
Philippine Eagle
, formerly known as the Monkey Eating Eagle. Picture taking wasn't allowed so we weren't able to take pictures of the eagle, but believe me when I say, he was HUGE and had quite an impressive bearing. It was like looking at Toshiro Mifune. Very intimidating.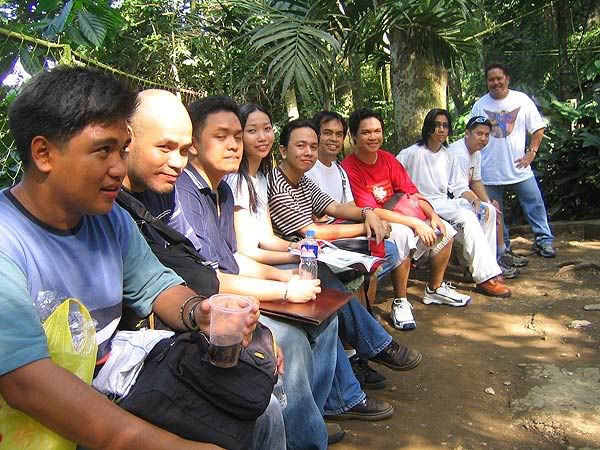 Outside the Raptor Center
From Left: Raipo, Rod, Jerald, Jac, Jonas, Johnny, Henry, Geoff, Rene, and Gerry
We then proceeded to the fields near the Fertility Tree to just hang out, rest (it was a very tiring hike. Damn you Jonas and Johnny!), and talk about stuff. I thought about killing Johnny in the next installment of Johnny Balbona just because. Just like South Park. Johnny Balbona will die at the end of each installment, and will be alive again in the next and dies again. I'm still thinking of what I will be doing to Jonas.