KENKOY EXHIBIT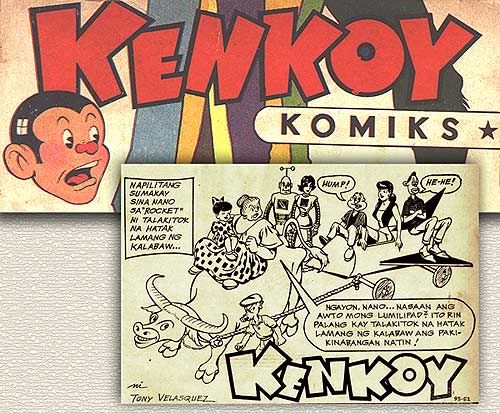 Hi everyone,
There will be an exhibit of
Kenkoy Memorabilia
at the
Rizal Library
of
Ateneo de Manila
starting tomorrow August 9 up to August 20, 2004. This is in connection with the Filipino Month Celebration in which Ateneo de Manila will pay tribute to Kenkoy's creator,
Tony Velasquez
, the Father of Philippine Comics.
There will be an opening ceremony on August 9 at 9:00 am wherein Velasquez will be awarded for his contributions to Philippine language and culture.
The exhibit will showcase Velasquez' original artworks of Kenkoy, Rosing, Ponyang Halobaybay, Talakitok, etc.,as well as rare Kenkoy Komiks, original scripts, books, photos,documents and his personal items.
Since the exhibit will be held inside Ateneo's Library, outside visitors will be required to present ID's for entrance.
Thank you and please do find the time to take this rare opportunity to see this exhibit.
Dennis Villegas

*************



ALFREDO ALCALA EXHIBIT




An exhibit of Alfredo Alcala's work will be held in San Francisco at the
San Francisco Main Library, 3rd Floor Filipino American and International Center
from January 1 to February 28, 2005.
The exhibit title will be: "
The Master and Son"
Exhibit, where Alfredo's son Christian will be exhibiting his works as well. Christian, a comic book creator himself, wrote and drew "Smoke Ninja", an anti-tobacco comics series drawin in cartoon style.