More Art and Artists
I've had some requests to feature some artists, specially Ading Gonzales. I'm posting here some of those requested, as well as other artists I have not yet previously mentioned.
Ading Gonzales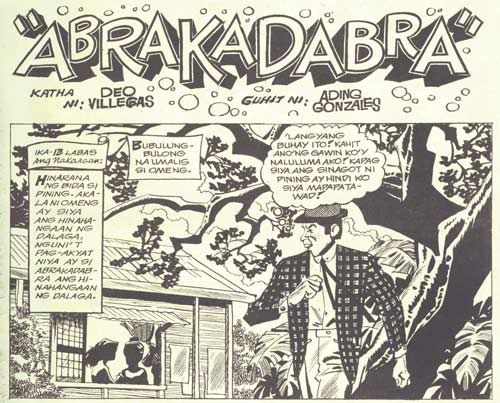 Abrakadabra
written by Deo Villegas
HIWAGA Komiks, July 30, 1965
For more of Ading's art, linked below is a complete 4 page story "Simula ng Wakas" from Tagalog Klasiks #395, March 4, 1966
Simula ng Wakas 1
Simula ng Wakas 2
Simula ng Wakas 3
Simula ng Wakas 4
Dell Barras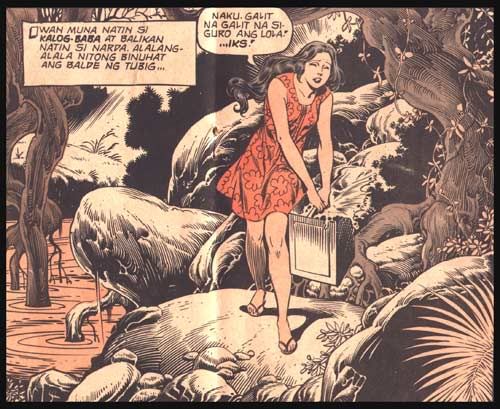 Darna at ang Black Widow
written by Mars Ravelo and Renato Mendoza
RAVELO Komiks-Movie Magazine #176, March 6, 1980
Dell is a regular visitor to this site, and has given us valuable assistance in our projects. Thanks Dell!
After establishing himself as an artist on Philippine comics working on titles such as Javlin and Darna, Dell has consequently worked on many US comics like New Mutants, The New Defenders, Whisper, Battletide, Avengers, Blue Beetle, Captain Thunder and Blue Bolt, Conan, Detective Comics, Teen Titans Spotlight and so much more.
Dell Barras Official Site
Rudy Nebres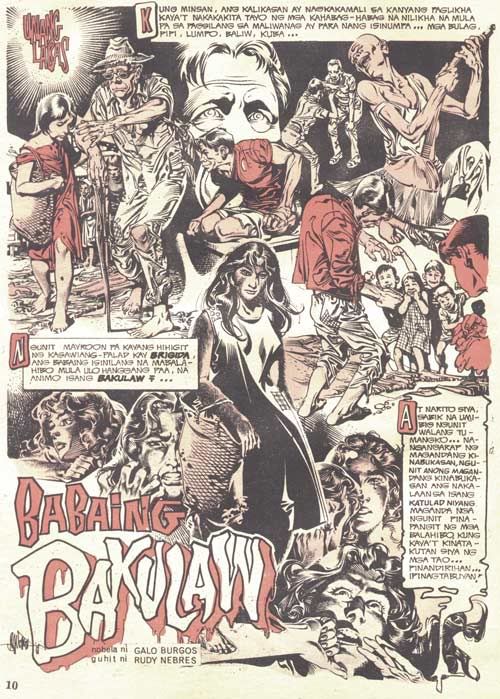 Babaing Bakulaw
written by Galo Burgos
ESPESYAL Komiks #291, July 19, 1965
Rudy is a very popular artist in the US where he has made quite a career for himself working on comics like Conan, Creepy, Crossgen Chronicles, Deadly Hands of Kung Fu, The Fly, Doctor Strange, Eerie, Goblin, The Incredible Hulk, Vampirella, and so much more. He has also released an art book,
The Art of Rudy Nebres
.
Ruben Yandoc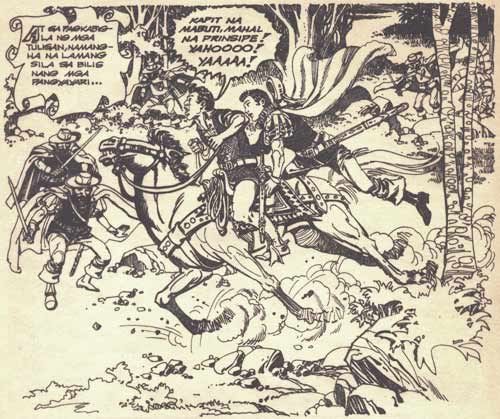 Don Del Oro
written by Ruben Yandoc
HIWAGA Komiks #338, January 29, 1965
Also known as Rubeny, Ruben Yandoc has worked on comics novels like PATAPON and Kasaysayan ng Mga Anghel (Kenkoy Komiks) and 29 (Tagalog Klasiks). In the US, Ruben is famous for working on such comics like GI Combat, Ghosts, House of Mystery and House of Secrets, Sgt. Rock, The Unexpected, Weird War Tales and so on.
Fred D. Marchadesch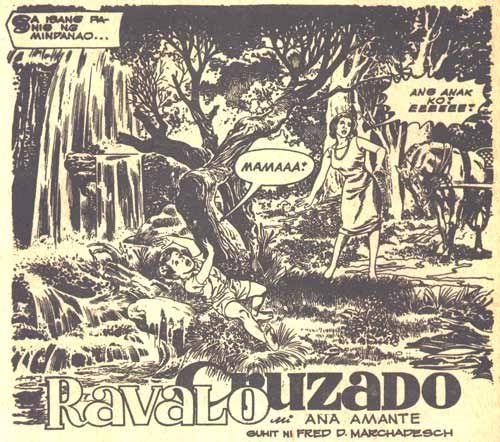 Ravalo Cruzado
written by Ana Amante
Pioneer Komiks #159, December 23, 1968
I actually hardly know anything about Fred, but I've seen his work on many comic books and he has shown that he's quite an excellent artist. If anyone has any info on him, please feel free to write. Thanks!
Yong Montaño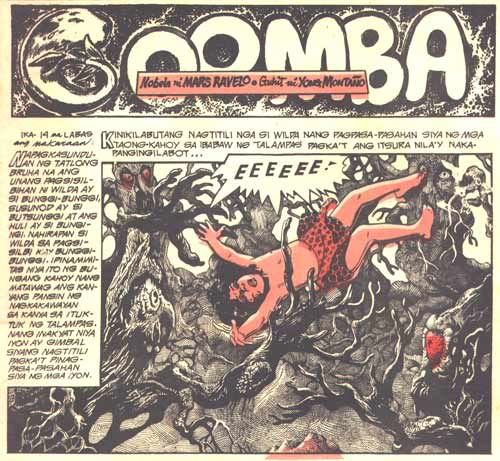 GOOMBA
Written by Mars Ravelo
Tagalog Klasiks #416
December 23, 1966
I've had the privilege of having my work appear with Yong Montaño on the pages of Terror Komiks, published by Mass Media Communications in 1992. I met him not too long ago and I was surprised to learn that he actually knew who I was.
Specializing in the horror genre, he has worked on comics in that genre, including the aforementioned Terror Comics, as well as comics published in the US like Monsters Unleashed, Tales of the Zombie, Vampire Tales, Marvel Chillers, Haunt of Horrors and Giant Size Werewolf.