Lastikman!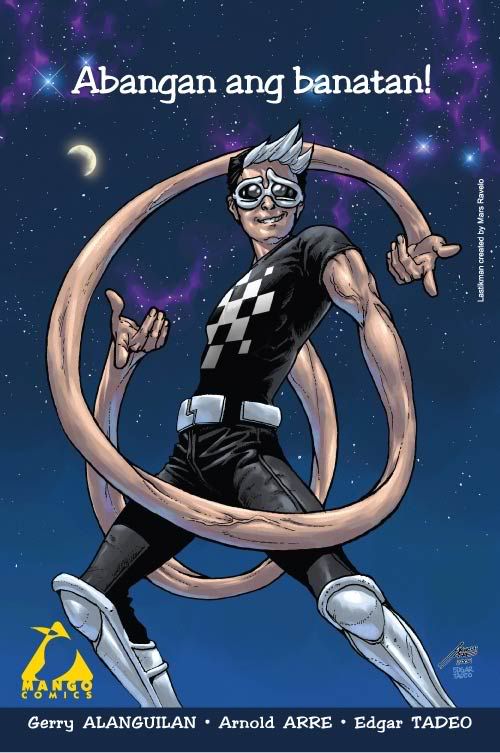 LASTIKMAN
Written by
Gerry Alanguilan
, Drawn by
Arnold Arre
Colored by
Edgar Tadeo
Coming in December from
Mango Comics
Lastikman created by
Mars Ravelo
I can finally share some artwork from Lastikman. It's a peculiar situation for me to be in. This is the first comic book I worked on where I'm solely the writer and had nothing to do with the artwork. It's allright, because after seing the art come in, I'm totally convinced that no one can draw my story better than Arnold Arre. This bit up there only scratches the surface of the character, vitality and energy of what Arnold is doing.
Having Edgar on board to color, I could never ask for a better team. I've worked with Ed previously on
HIGH ROADS
for Cliffhanger with penciller
Leinil Francis Yu
, and he did such a terrific job there that I knew Ed is one of the very few colorists that I would want to work with again.
Having been in the position to decide to bring those two artists in, I gotta say I've never regretted the decision, and I'm glad they both accepted.
Now I can only hope that I don't embarass myself by coming up with a crappy story. I owe it to those guys, and to Mango who trusted me with the assignment to do the best job I possibly can.
Lastikman is a character created by the late
MARS RAVELO
in 1964 with artist
Mar Santana.
It was serialized in the pages of Aliwan Komiks, published by Graphic Arts Service, Inc. (GASI) Lastikman appeared again in Holiday Komiks in 1968, also written by Mars Ravelo and drawn by
Vir Aguirre
and
Hermoso Pancho
.
Lastikman has been adapted several times to motion pictures, the first being a 1968 version with
Von Serna
(father of Snooky Serna) in the lead. It was followed in 2002 by another version starring
Vic Sotto
. Lastikman briefly appeared in 2004's
Captain Barbell
, another character created by Mars Ravelo.