****************************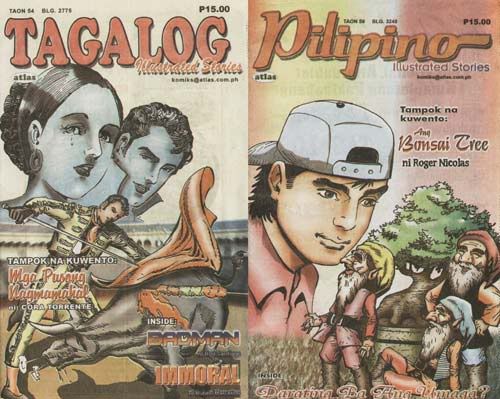 It was such a surprise to see a bunch of new komiks from ATLAS when I passed by my favorite newsstand in town. After much speculation that they had closed, Randy Valiente has confirmed that they are still indeed open for business but can only manage to release a few titles here and there.
Tagalog Illustrated Stories
Year 54 # 2776 and
Pilipino Illustrated Stories
Year 59 #3248 cover dated December 5, 2005 are the latest in a long line of comic books beginning way back in 1946 when they were still known as
Tagalog Klasiks
and
Pilipino Komiks
respectively. These komiks were the homes of some of our legendary artists including Malang, Vicente Manansala, Francisco V. Coching, Jose Zabala Santos, Tony Velasquez, Larry Alcala, Mars Ravelo and many more.
I have heared that the very first issue of Tagalog Klasiks even had some translated reprints of stories illustrated by
Jack Kirby
. I wonder if that was true.
Check out this
page
from
Dennis Villegas
' blog depicting caricatured photos of these creators in an early issue of Pilipino komiks.
Ang Mga Karikaturista ng Pilipino Komiks
I'm glad that these komiks are still around, but I think they really need a major overhaul to survive further. I'm not going to pretend to know how to run a comics company, but the results speak for themselves. A lot of people think komiks is dead, but it would probably surprise many of you that these comics still exist, since you don't see them, or hardly see them at all, specially in those places where they used to dominate. The printing isn't really good as the page below would demonstrate.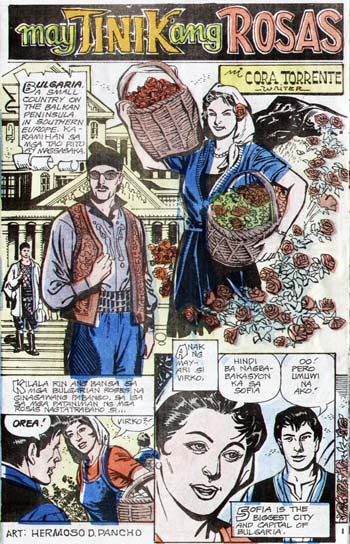 Hermoso Pancho
May Tinik ang Rosas
written by Cora Torrente
Tagalog Illustrated Stories #2775
December 5, 2005
Hermoso Pancho however, still brings it with every page he illustrates. It's obvious he still cares about the craft and struggles on inspite of the printing quality of the end result. Clearly his work really deserves much better coloring and printing. He's been around since the 1960's and I've featured his work previously
here
and
here
. I think he's a remarkable illustrator and professional and I really would love to meet him and interview him one of these days.
And speaking of remarkable illustrators (and better printing), here's another piece from
Jun Lofamia
from the latest issue of
Liwayway
, cover dated December 19, 2005.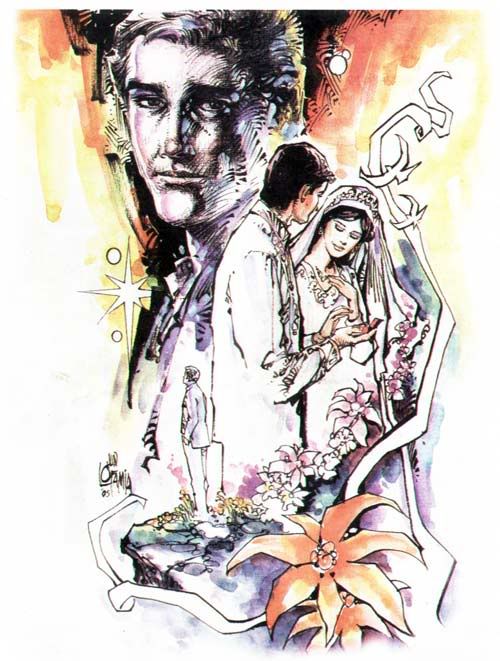 Jun Lofamia
Ikaw at Ang Tala
Spot Illustration
written by Clemen M. Bautista