Color Comics Restoration Test
I tried my hand a little bit at restoring a full color page. I've been doing restoration on black and white pages for several months now on El Indio, but I had wondered what and how it would be like to do a color restoration on a very old comics page.
I chose a sample from an old Liwayway komiks supplement from December 17, 1951, "
Dimas: Tulisang Banal
" as drawn by
Alfredo Alcala
.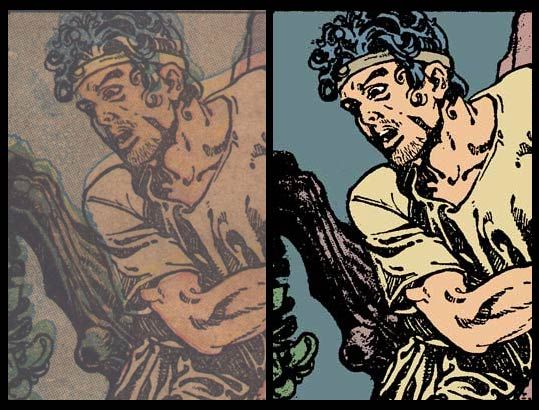 I had been reading up on the proper procedure for restoring old color comics and I was surprised that restorers generally strip the comics of all color, restore the black and white linework, and then recolor the page via the computer. As far as I know this was how many American comics have been restored including the The Spirit Archives, DC Archives, and Krigstein Comics published by Fantagraphics.
Restorers don't usually use the exact same colors as it is understandable that colors may have faded due to age. There are also some color choices that may not necessarily been good, but understandable due perhaps to circumstances like time constraint at the time the comics was made.
In this page, I tried my best to restore the page not only hopefully as good as how it originally looked, but I also tried to correct printing errors, and did some minimal color adjustments. But I tried very hard not to color the page beyond what was possible with coloring at the time. I did not do modern shadings for instance.
For a full size version of the restored page,
please click HERE
.
I welcome all comments with regards to this color restoration test. What works? What doesn't? Would you rather see the page unrestored, errors and all? Or would you rather see the artwork as good as hopefully how the artist intended it to be?
It is possible that I may be doing more in the future, specially for the Masters of Philippine Comics Art book, and any opinion that could help me do the work well will be much appreciated. Thanks!