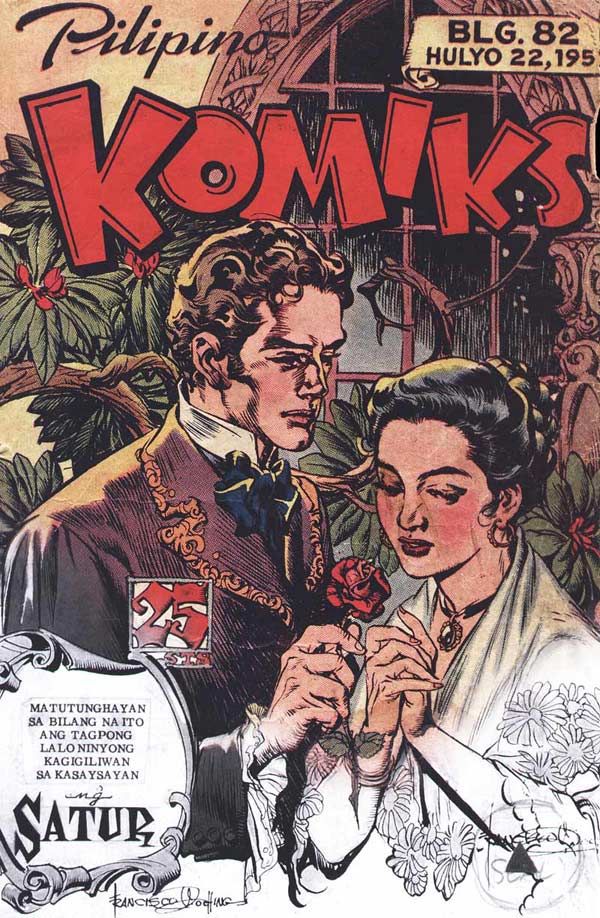 SATUR by Francisco V. Coching
Pilipino Komiks #82, July 22, 1951
Francisco V. Coching's page
on the site has been updated with a biography and a new art gallery of full size covers, interior pages and other illustrations.
The above artwork is a composite of a Satur color cover and a scan of the original art. I've had to do this because my copy of the printed color cover is badly damaged on the lower portion. In the Coching book Katha At Guhit, there is a scan of the original art for this cover, but it seems that it too is damaged, but on the upper portion.
I thought that to get a whole undamaged piece where the entire artwork could be seen, I could composite the undamaged portions of each artwork with each other to form a complete cover.
I hope to find another copy of this comic with a full undamaged cover one day. I wish!
This is only one of 16 full page artwork you can see in the
updated gallery
, which you can find
here
. Or click below.
FRANCISCO V. COCHING GALLERY


http://www.komikero.com/museum/coching.html