To kick off Liwayway Months (May, June, July), I've uploaded a complete 2-page strip of Mars Ravelo's classic and enduring
Buhay Pilipino
. A version of this strip is still running today, at least until the very last issue of Liwayway published by Liwayway Publications before it moves to Bulletin. The strip, currently called "Buhay Pinoy", is written by Perry C. Mangilaya and drawn by Alfred C. Manuel, employing essentially the same look for the evolving cast of characters for many decades.
Click Here for Buhay Pilipino Page 1
Click Here for Buhay Pilipino Page 2
**************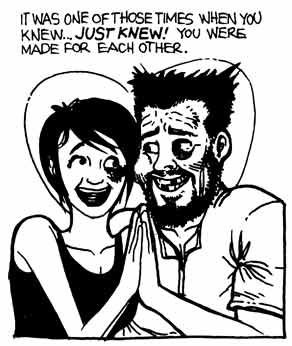 Mwahaha! Issue #5 has finally come out, featuring Johnny Balbona in *LOVE*. Or is he?
Humanis Rex #1
is finally out with the latest issue of Fudge Magazine with the Jessica Alba Sin City cover.