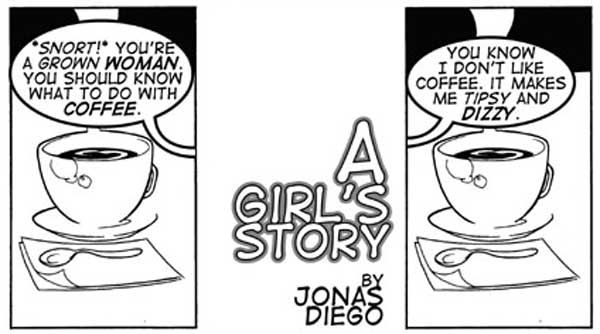 A Girl's Story by Jonas Diego
I met Jonas Diego sometime in 1998, an aspiring comics artist, just one of many I have met since. He's since become a steady pal and Komikero Artists Group co-founder. He's steadily coming to his own as a professional artist and a writer. You can see his work in his many mini-comics, the upcoming Siglo: Passion anthology,
Click The City
, his
blog
, and a few US-based companies have picked his graphic novels for publication there.
He has been running a twice-weekly strip called "
Graphic Detail
" and "
Buhay Kartunista
" in his blog, but what has caught my attention more than anything else is a third strip he is running called
"A Girl's Story"
. It wouldn't be right to call it simply a "piece of work". I seem to get something truly heartfelt and personal about this story, a realism that makes it very compelling, haunting and thought provoking.
If this is something that's true, my heart goes out to the victim, and to all victims of of things like this. For I know this is not something that is uncommon, and it is happening far more often than we realize. I hope Jonas' story sheds some light on atrocities on women, atrocities that may seem trivial and ridiculous to some, but devastating and heartbreaking for its victims.
A Girl's Story Part 1