At The First Philippine Graphic/Fiction Awards
Here's the six-minute video I put together that debut at yesterday's event.
I've been up late at night for the past couple of days putting together this video presentation, which I hope would evoke a sense of history as each and every major Filipino comics creator from Jose Rizal to Leinil Francis Yu are shown in quick succession, to the music of Bob Dylan's "Like a Rolling Stone." I wanted to choose a Filipino made song as well, but for some reason, this song hit me really hard when I started to look for a song that would fit. I burned it on a VCD and brought it with me to the event. Note: This is a purely non-profit exercise. No copies of the VCD will be made for the purpose of making money.
Me and Ilyn arrived at the Rockwell Tent at 10:30 in the morning, and as soon as we stepped in we thought, oh man... it's COLD. The airconditioning seemed to be on full blast. We had decided early on to wear light clothing because we had heard that it was a hot venue. But man, it was like freakin Antartica in there. It's a good thing I brought a long a change of clothes that Ilyn could wear over her shirt. It would be really cold all the way until we left at 9 in the evening.
We immediately set up shop, displaying copies of ELMER for sale.
We shared the space with other artists like Ariel Atienza (Westside), Joanah Tinio (Cresci Prophecies), Marius (The Man From The Planet of the Masochists), Syeri Baet (Carpool), Komikera, and Reno Maniquis (Maskarado).

Joanah Tinio
I was really impressed by the staggering amount of mini-comics Joanah has been able to come out with at the same time she was going to college. Although she employs an artistic sensibility that's different from mine, I was very encouraged by her sheer love of creating comics. To date, she's finished 19 issues of her mini comic "Cresci Prophecies" (17 of which are publicly available). This is more than most, if not of all, Filipino mini comic makers have done on a single title. She was also able to come out with this really beautiful hard cover volume of the first eight issues. I bought a copy right away. I've yet to read it, but she's got a talking bird in it, which really got my attention.

Ace Mansala Balacio (with glasses) and his Neo Comics crew.
Ace is a very enthusiastic new publisher with a very talented crew of very young artists. Most of them I think are in their teens. Many of his artists show incredible potential, and I've adviced Ace to guide them well, and expose them to as many different forms of art as possible.

The Alcala Legacy Exhibit
The Alcala Family, c/o Alfredo Alcala Jr., has been working hard to keep the memory of their father and his work alive by constantly holding exhibits that showcase Alfredo Sr's best work. I first saw this exhibit at the Komikon in 2005, then at the Toycon just a few weeks ago and now here. Their untiring effort is paying off in that many young artists now know who Alfredo Alcala is, and what a fantastic artist he is. Hopefully, this serves as an inspiration for many young Filipinos.

The Question and Answer Forum with (from left) Wilson Tortosa (Battle of the Planets), Ace, me and John Becaro (Genesis).

The Q&A forum was really fun. Up and coming artist John Becaro has much potential as a passionate creator. Not only is his work indicative of a hard-working artist, he also writes heartfelt and perceptive observations about the state of comics in the Philippines in his site.


More than once, the subject of originality, what is "Filipino" in comics art and manga came up. It's a subject that I really wanted to talk about because although my beliefs haven't changed since my own "passionate" observations on the state of comics several years ago, I have changed in the way I choose to say what I want to say. I've done a lot of thinking about this same subject, and I wish we had a lot more time on the forum (we only had an hour) because it's something I really wanted to share. Perhaps I will put it all down in writing one of these days.

With Roderick Macutay and Randy Valiente.
Randy is working on a stunningly illustrated 200-page graphic novel, previews of which you can see
at his site
. I knew Randy to be a good artist, but I never knew he was capable of so much more. I was really bowled over.

More Artists' Tables.

Former inker Augy de Lara (Jade), Leonard Banaag (Taleweaver), Gilbert Monsanto (Houdini) and his wife Glenda, Ner Pedrina and me.

Augy was one of the earliest artists I've met when I first started drawing comics. I saw his portfolio back in 1991 and I was really impressed. After a short inking stint in the mid 90's, Augy took a job at a call center, the hottest job craze locally. He talked to me last night and said he wanted to come back to comics, and it's something I completely understand. If you're an artist, you really need to create, and something will always lacking in your life if you don't.



Ilyn was kind enough to watch over selling the chickens while I roamed.

Outer Hope
An old acquaintance from the PinoyDVD days, Flyderman, visited me at the booth, and we talked a little bit about the DVD forum and other happenings. Later, I was suprised to suddenly see him on stage with a guitar. Awesome! I didn't know he was in a band!

Wilson Tortosa sketching for a fan.

Pinikpikan with fire performers Planet Zips.
Now all these intermissions, although very entertaining, only heightened my anticipation for just who the event's "surprise" guest is. In my previous post, I pounded emphatically on my keyboard about my belief that Neil Gaiman himself, as the sponsor of the event, will make a surprise appearance. Anyone else would be a let down. My suspicion was further heightened by an unusual presence of extra security (although they looked military) roaming the place. I thought wow, would they do that for JUST anybody? I mean, come ON! It's only a 13 hour plane trip from the UK to the Philippines. It's common knowledge to Gaiman fans that Neil is currently in the UK looking over filming of his film, Stardust. It's perfectly concievable that he would make a lightning appearance, announce the winners of the prose and comics contests, rest a bit and jet back to the UK again.
My anticipation was even further heightened by an extraordinarily enthusiastic host, who finally introduced our special guest. And yes! IT WAS NEIL GAIMAN!!
Well, sort of.
Neil Gaiman greeted us from the set of Stardust in the UK, commenting on the day's activites and foul mouthed carpenters. It was really strange...it's like looking at an actor who couldn't be there to accept his Oscar because he was off on location. I never thought I'd see one of those things first hand. Still, it was a surprise allright.
It wasn't exactly a live feed because they could pause it in between announcements of individual winners. Oh well, so he isn't here. But it wasn't entirely a letdown either. They made a really funny Neil Gaiman clip, summarizing the events that led him to come to the Philippines last year. I hope they upload it up on You Tube.
The winners of the comics contest was really no surpise, at least to me. I had expected them to win, although not entirely in that order.
There was a tie for third place between
Defiant: The Battle for Mactan
and
Dusk
.
Second place went to
Manix Abrera's Splat!
Manix also won People's Choice Awards.
And the first place went to
The Sad, Mad, Incredible but True Adventures of Hika Girl
, written by
Waya Gallardo
, and illustrated by
Lala Gallardo
.
There's a neat story in there when Karlo Samson reacted to my earlier post about Hika Girl being a favorite of mine to win. He said that I had already met the artist online, but he wasn't saying who it was.
Well, that kind of thing I find somewhat challenging, so I put my formidable Internet stalking skills to work. I searched for Karlo's name and discovered that he's Didipusrex, (which was also his email) and that I know him as a friend in Buzznet.com. In his LiveJournal, Karlo mentioned a few female friends who were artists, among them an old friend of mine, Genie Ranada. I was familiar with Genie's work so I knew it wasn't her. A Lala Gallardo was also mentioned, and I found out that she was a friend of mine in Buzznet as well. She had uploaded her artwork there, but they seem to be inaccesible. But I also discovered she had a Flickr account, and there I finally saw her drawings. And then I just knew it was her.
Congratulations to all the winners, all those who made the short list, and all those who were able to join. Like I had said many months ago, this competition will bring out the best in many artists, and this was proof of it.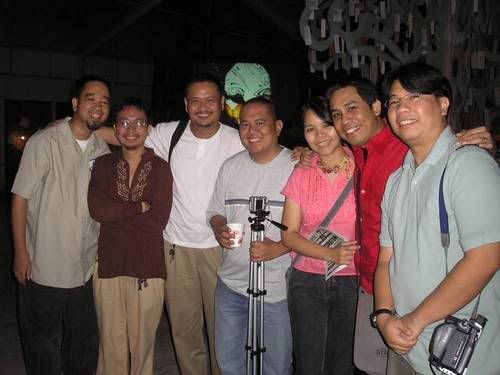 Ariel Atienza, Jonas Diego, Dean Alfar, me, Cynthia and Arnold Arre, Azrael Colladila.

More Photos at Azrael's Site
. Thanks Az!