I spent the last week just drawing and coloring Humanis Rex #16. I'm on the last leg of my run on Fudge Magazine and I really want each installment to surpass the previous one in terms of art. I have plenty of opportunity to do so because from here on in, it's all out war on a completely large scale. Each installment will be a two-page spread that would allow me to have a huge upper panel across two pages.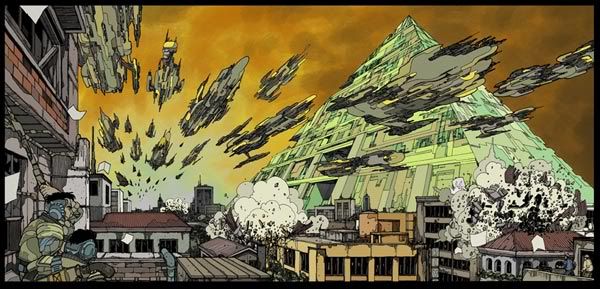 I usually withdraw a little bit whenever I'm finishing an installment so I can concentrate on doing the work. So apologies to anyone who has been trying to get in touch. I'm usually harder to get in touch with during these times.
For Elmer #1, I withdrew completely from everything (except from my wife and our dog Eugene) and went to our country rest house without electricity, TV, computer, phone, and radio for several days. I expect to do the same when work for Elmer #2 is in full swing. I expect it would be far more difficult to do, not only because of it's additional pages, but because of the subject matter.
I still continue to push Elmer whenever and wherever I can. I did an interview for Newsarama.com not too long ago, not only for Elmer, but also for the Comics Museum. I hope they find it newsworthy enough to upload at their site. I've been stung once before when I had my hopes raised and then dashed when I did an interview with another high profile site and it never came out. I wish I could avoid wasting time by dealing only those who would be straight with me, but you really can't tell, so you entertain them all and then hope for the best.
I have a friend from Eastern Europe, someone I had been corresponding with now via email on and off for like 8 years. He would often ask me what comics I'm reading right now, and he would give me a list of comics he had been reading, and ask for my opinion on such and such story, character or event. I often just scratch my head, not knowing what to say. The truth of it is, I really don't read too many new comics nowadays.
There was once a time, specially during back in my college days in the 80's, that I was a rabid comics reader. I was a huge X-men fan and I would read any comic book that had those characters in it. During class I'd daydream about where I would be going after the bell rings and the kind of comics I would get. More often than not, I'd walk all the way from my class at the University of Sto Tomas in España to Rizal Avenue near Quiapo and browse the many newsstands for their bargain imported comics. I'd buy all the X-men stuff I could find like the regular X-men title (back then there was only one, believe or not). I'd also get New Mutants, X-men tie ins with Spiderman, Thor, Power Pack, Marvel Age, and the various X-men limited series. I'd get stuff like Cloak and Dagger because I just loved the art by Rick Leonardi and Terry Austin. I learned my Manila geography because of comics because I would go to places I haven't been before because I heard there were good comics sources there. I learned to go to Greenhills and Cubao because of comics. There was this really awesome store in Greenhills called Crizareth where you could buy all these X-men back issues.
When I started working in comics in the early 90's my interest in reading comics slowly diminished. My passion for X-men sort of died out when Chris Claremont left, and a new X-men title was born. Change is all well and good, but you know, no matter how your friends change, they're still the same people with the same characteristics, quirks, expressions and mannerisms. When Chris Claremont left, we were treated to some really good stories and some really good art, but the characters no longer seemed like the same characters I had grew up with. It was like they were completely different people. And it sort of bummed me out.
In recent years I hardly read comics anymore at all. This is not any comment on the quality of comics, as I'm sure many of them are still very good, but the interest doesn't seem to be there anymore. Comics is a hard, hard job. Even though I like what I'm doing, the work is often very intense, very difficult and completely exhausting. When I want to take a break, the last thing I want to do is read comics. And when I want to read, the last thing I want to read are comics.
I once vowed I would read anything that Frank Miller, Neil Gaiman and Alan Moore would write. But even for them, I just can't work up the proper interest anymore. There were many ABC books I failed to buy and read. I managed to buy one of Frank Miller's Batman and Robin with Jim Lee. Well, I didn't like it anyway. I'm completely missing Gaiman's Eternals altogether.
I'm more willing to try new independent comic books because I'm always looking out for something different and new. I really loved the Bone One Volume Editon, David B.'s Epileptic, and Alex Niño's The Orc's Treasure.
The only thing that completely grips me and has me gurgling like a fan boy nowadays are collections of comics I loved as a kid. I forked out serious bucks to buy an Absolute Watchmen, and read it all again in one sitting. It's still one hell of a fantastic read. When I first saw that Uncanny X-Men Omnibus online, a colossal compilation of the very first Chris Claremont X-men stories with Dave Cockrum and John Byrne, I almost shit in my pants (actually, I think I did). The hardcover book collects Giant Size X-men #1, as well as #94 to 131 of the regular series, as well as Annual #3. The first third of this book is responsible for a large chunk of my childhood memories. I remember being 10 years old in 1978, reading National Book Store reprints of these issues and being completely blown away. Wolverine was a favorite character even back then. I had believed his claws came from his gloves, but when I saw them shooting off his bare hands, I was both repelled and awed. It was a fact that shocked the other X-men as well. "Yer CLAWS, Laddie... Lord above, they're a PART OF YOU-- we...I... didn't KNOW!", stammers Banshee. Completely unforgettable stuff. These issues, including the ones that came after are some of the best superhero stories ever made, in my opinion. I just had to have it.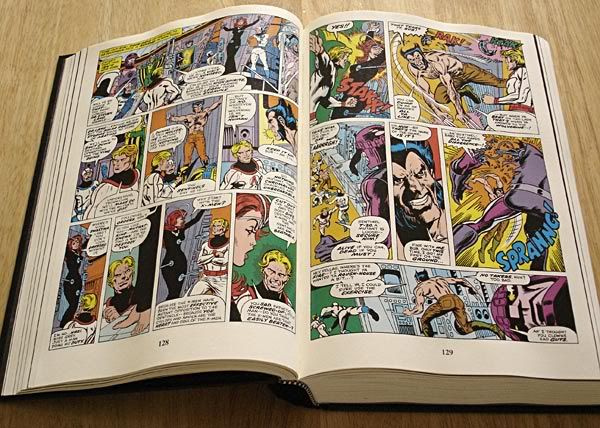 I didn't have money to buy the Omnibus book, but I had the idea of putting out an offer here on this blog for a trade. An Uncanny X-men Omnibus Volume 1 for 1 page of Wolverine original art. Within a few hours, someone already responded, and it's Sandy Sansolis of Comics Odyssey. So I met with him yesterday, did the trade, and we had a nice long talk about comics. In addition to the Omnibus book, he also gave me a copy of DC Showcase: House of Mystery and 3 copies of a signed Alex Niño print. He really didn't have to, as I felt the Omnibus was enough. I would have gladly paid for the rest but he wanted none of it.
So I'll do my bit for promoting his store. I'm not doing this because he did me a favor, but because I think his store really is cool and it's location may have disadvantaged it to many comics fans from farther parts of Metro Manila like Quezon City. The store has got a very extensive old back issue stock and a very wide selection of new mainstream and indie books.
If you want to go check it out, the store's name is COMIC ODYSSEY, on the 3rd Floor, Pedro Gil Wing of Robinson's Place, along Pedro Gil in Malate. Sandy says he'll be opening a new branch sometime soon in Ortigas. I'll be talking about that when the time comes.
A Note About the Comics Museum.
Apologies to visitors of the Comics Museum. Please don't think I've forgotten about it. Because of the move to a different server, I would have to rework a lot of the links and it will take time to correct. Additionally, because I've retired from inking, I've had to prioritize my transition from inker to a full artist and the process has been difficult and enormously time consuming. I'm still in that process and I'm still not sure if I will succeed or not, but I will give it a hell of a go and I'll be a bloody dismembered and disfigured mess before I quit. And maybe not even then.