READ OR DIE
I'll be at the Read or Die Convention this weekend, February 3-4 at the Hotel Intercon in Makati where I will be selling Elmers 1 and 2. I'll gladly do an Elmer sketch for you for free if you buy Elmer, have bought Elmer, or even if you don't buy one. It's strange when people ask me to sketch Captain America or Batgirl or things like that. I'm not complaining, I'm just curious, because I'm not known to have drawn those characters, so I'm wondering what the connection was. To me it would make more sense if people ask me to draw characters I have worked on or created because the connection is there. It's like asking me to sign a comic book I didn't work on. OK, that's an extreme comparison, but the feeling is similar.
Anyway, I'll also be bringing a stack of original artwork to sell, from Birthright, to Batman/Danger Girl, to High Roads, and probably others. I won't be able to offer rates like I did at Komikon because those special discounted prices are only for Komikon. The next time I'll be offering those kinds of prices again will be at the next Komikon, sometime in October.
UST LECTURE
Next up will be a lecture at the University of Sto. Tomas on February 10, 2007. It will be at Room 801 Beato Angelico Building at 1-4pm. I'll be talking about something... most likely about comics!
When I was studying at UST in the late 80's, this buidling wasn't in existence yet. I don't remember what was there at the time, was it the UST Press? I know it's beside the huge football field. Lots of memories associated with that field. Those horrible ROTC Sunday mornings, the after lunch P.E. jogs in those yellow shorts with small white USTs printed on them, PACAFALAN, mooning over girls who didn't like me, sketching, just hanging out. It would definitely be a strange experience coming back. I know some of my old classmates are teaching there now... some of my old teachers are still there. There are some I want to see again, and one particular teacher I really don't.
JOHN BEATTY SIGNING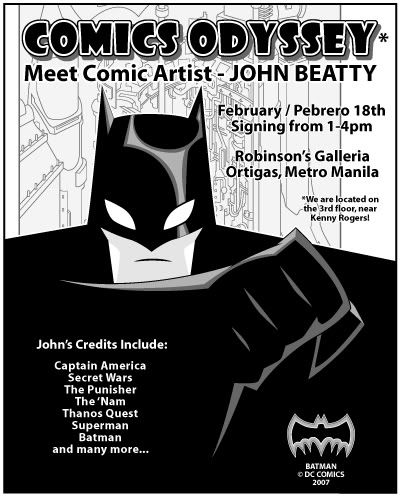 Schedule's definite! John's signing will be on February 18, 1-4 PM at Comics Odyssey, Robinson's Galleria.
+

Komikero meeting last Sunday! I have photos and a video, but I'm a little bit busy at the moment to put them up. Here's coverage from my ol pals
Jonas Diego
, and
Edgar Tadeo
.
+

I'm supposed to rant about something. I've been writing it since last week. It's rather long now. Maybe later in the week.
In the meantime, let me teach you how to cook my
Chicken Curry
!