Guhit Pinoy, Saudi Arabia
Not too long ago, I met Filipino artist
Edbon Sevilleno
online, based in Saudi Arabia. He showed me his works which you can
see in this link
, and I thought his work is amazingly impressive.
Edbon organized "
Guhit Pinoy
" a group of Filipino komiks artists, who each found success working in various fields of art in Saudi Arabia. They mostly work for International Ad agencies like AP7, McCann Erickson, J.Walters, BBDO, Saatchi & Saatchi and others. Some are Art Directors, Graphic Artists and Concept Visualizers, doing storyboards to everything that requires drawing.
But the love for illustration and komiks still burns in their spirit and they meet ocassionally to share their work, sketch and paint. And wow, collectively, their work is some of the best art I've seen done by Filipinos. Edbon has put up a blog for Guhit Pinoy where you can see examples of their excellent work.
GUHIT PINOY BLOG
http://guhitpinoykomiks.blogspot.com/
Guhit Pinoy includes artists Val Pabulos, Manny Pantaleon, Romy Villanueva, Boy Tanangko, George Besinga, Ronnie de Guzman, Mel Valdez, Pons Amurao, Nes Gelito, Max Merto, Mel Verzosa, Alfreo Verzosa, Max Boyet Viernes Jr., Sonny delos Santos, Marjoe Suvisor, Natalio Alob Jr., Gil Magtalas, Ramero Firmeza, Ismael Esver, Mario Sta. Maria and of course, the one who began it all, Edbon Sevilleno.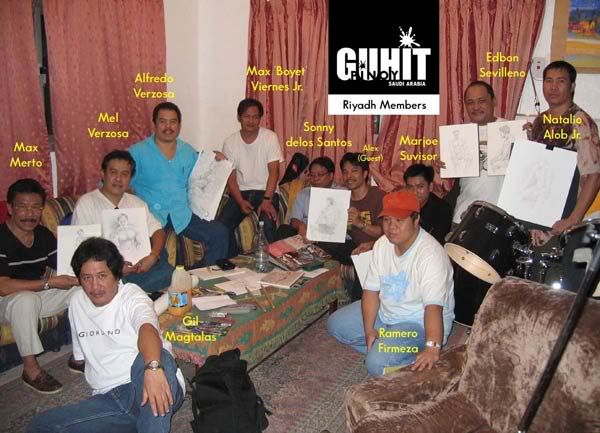 Click Photo for Larger Image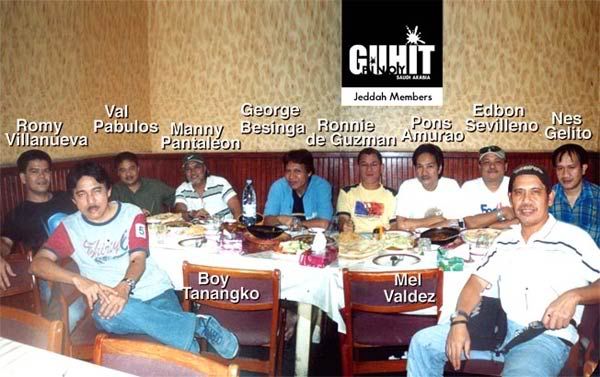 Click Photo for Larger Image
Mabuhay Kayo mga Kaibigan!
Edbon himself has several blogs where he puts up his work.
Check them out here
.