Canossa College Fair Day 4
Comic Book writer and illustrator
Rudy Florese
's family came over to visit on the last day of our exhibit.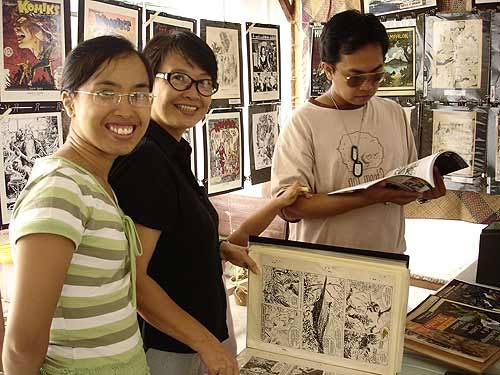 My wife Ilyn, Mrs. Linda Florese and Jun.
A lot of Rudy's work, specially Kenkoy short stories in Pinoy Komiks were on display. He is known in the US as an artist on Tarzan and Korak.
Very few of his originals remain with the family, so I decided to collect as much originals of his as I can. I'm glad to say that one of my favorite stories of his, "
Naging June Bride Din Si Lola
", has been handsomely framed and is now hanging proudly on the wall of their house after so many decades of being away.
One other interesting thing to note on this last day was that a local politican visited the booth, and upon seeing all the artwork, some of which have been done by me, immediately talked to me about doing a comic book as campaign material for her for an upcoming election. I know this person in a roundabout way. She's the daughter of my mom's friend. Not only that, Ilyn knows her personally.
But I really don't like doing comics like this. Doing campaign materials for politicians. I did it once when I was younger but no more. You will end up just doing one side of the story, with all the negative things conveniently set aside. It felt so much like lying that it felt really bad for a long time. I still feel bad about it now.
Additionally, I don't like to publicly align myself to any politician or party. It comes back to being an artist. I really don't like to be limited at all. I'd like to keep my eyes open towards everybody all the time, and I can't afford to join a "side" and then act accordingly. "Accordingly" meaning I can no longer speak my mind frankly about that person, and I will always view the other guys as "opposition". I don't like it. If my voice needs to be heard, then I'll make sure it does when I cast my ballot.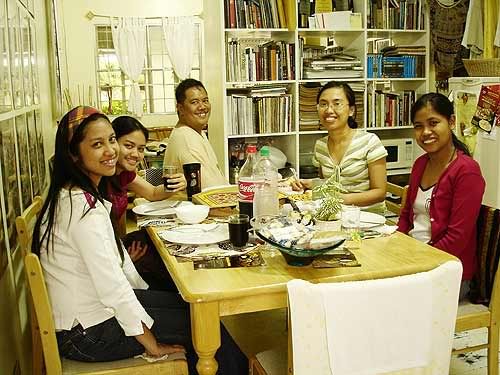 Anyway, big thanks to those who have helped us with our exhibit. From left, there's Edjee Mendoza, Mylene Panagsagan, me, Ilyn and Zarah Macandili. Thanks also to the carpenter who looks a bit like Richie the Horsie, and dad, who helped us with the transpo.
Here's to next year, or if you can't wait, Komikon 2 sometime in October, and then the 2nd San Pablo City Comics Festival this December! Tentative date is December 5.
Game??