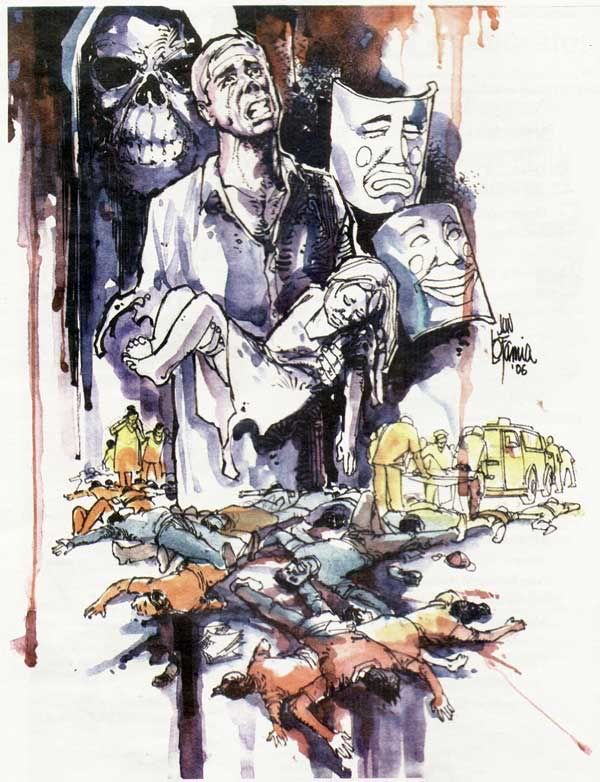 Jun Lofamia
Trahedya sa Komedya
... Spot Illustration
Poetry written by
Katherine Verances Marfal
Here's another peek into the latest issue of Liwayway Magazine, cover date February 20, 2006. For newer visitors to this site, Liwayway Magazine, at more than 80 years old, is the oldest Philippine magazine with comics still being published. It is considered as the birthplace of the Philippine comics industry when Tony Velasquez' created Kenkoy on its pages in 1923.
For more information on Liwayway, go
here
.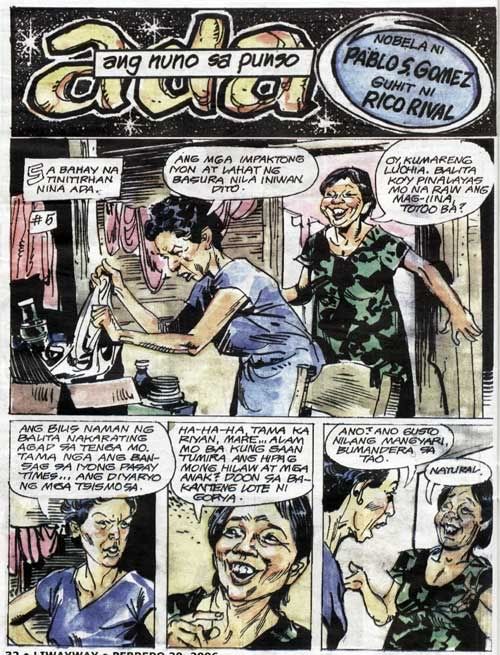 Rico Rival
ADA
Written by
Pablo S. Gomez
Rico Rival has been in the business since the 60's, and he's better now than he was back then. I'm really liking his work now. Of course Pablo S. Gomez has been around much much longer than that. If I'm not mistaken, he has been around since the 40's, and he's still going strong! His stories are still adapted into television series right now. It only goes to show how enduring his work is.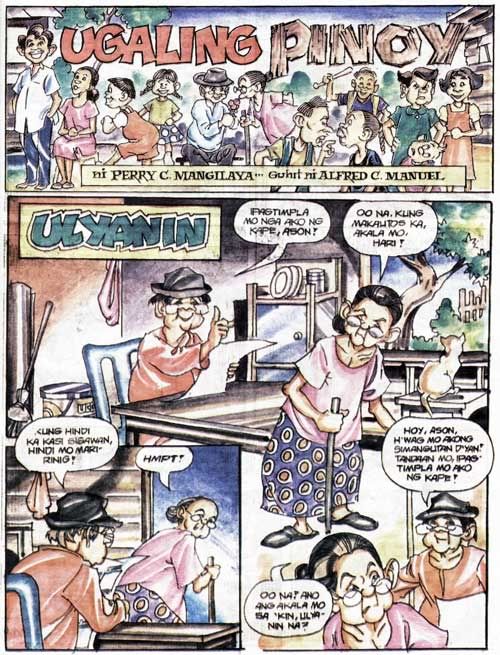 Alfred C. Manuel
Ugaling Pinoy
Written by
Perry C. Mangilaya
This strip mysteriously replaced "Buhay Pinoy", which was also being written and drawn by Mangilaya and Manuel. Buhay Pinoy, up until sometime last year, was the longest running comics strip in the country, began by Mars Ravelo decades ago on this same magazine, when it was still called "Buhay Pilipino". Ugaling Pinoy and Buhay Pinoy are, for all intents and purposes, very much the same, only with less cartoonish faces and figures, but they both delve into pretty much the same territory: the life and times of a typical Filipino family and their neighbors.
I can only speculate why they replaced one strip with something very similar that continues it. Perhaps they no longer had the rights, or perhaps the current creators would rather create something of their own. Maybe Dennis Villegas might know. Dennis?
But whatever the reason, the current artists of Liwayway seem to be quite inspired because they are doing some of the best work of their careers. Proving that watercolor work is not obsolete, and that computers are not the end all and be all of all things, these artists employ hand coloring with much success.
There was a suggestion not too long ago that me and "my group" of artists should work for Liwayway because we could do work that could uplift the quality of the magazine. I cannot agree or disagree. I will simply refuse. Hal Santiago, Jun Lofamia, Rico Rival, Abe Ocampo, Rod Lofamia and the many other artists who work here already uplifting the quality of the magazine. And like I said, they're doing some of the best work of their careers. I don't know what these guys ate or drank, but whatever it is, I want some!
As Reno Maniquis pointed out to me, it's notoriously difficult to get accepted at Liwayay. But lets just say that me and "my group" were able to get in, then what about all these other artists who are already working there? Some of them may well lose their jobs to us. And that is something I won't stand for. I'd rather see these people continue working there. I'm perfectly happy working somewhere else.
But I do hope to contribute at least one short story to the magazine one of these days. Maybe a Christmas story, or any kind of story that has a theme. Just one and I'll be perfectly happy.
:)