Lake Tripping
After adapting the legend of Sampalok Lake, I fully intend to adapt the legends of all six remaining lakes of San Pablo City, all of which are very interesting in their own right.
Up until two Sundays ago, I've visited all but two, Mohicap Lake and Palakpakin Lake. My dad asked me to come with him to visit and take photos of his childhood hangout in San Dig, a place not easily accessible by car and would take some bit of hiking.

My uncle and dad hiking through the bush.
Afterwards, my dad asked if I wanted to see the lakes in the area which, coincidentally enough, are Mohicap and Palakpakin. I said, yes of course! I needed to take pictures of all the lakes so I can depict them accurately in the comics. So off we went.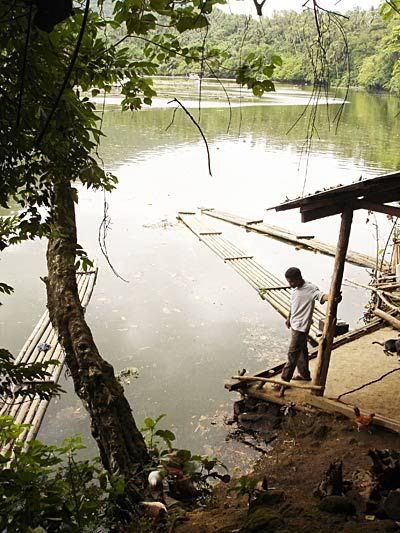 My uncle at Lake Mohicap

Panoramic view, Lake Mohicap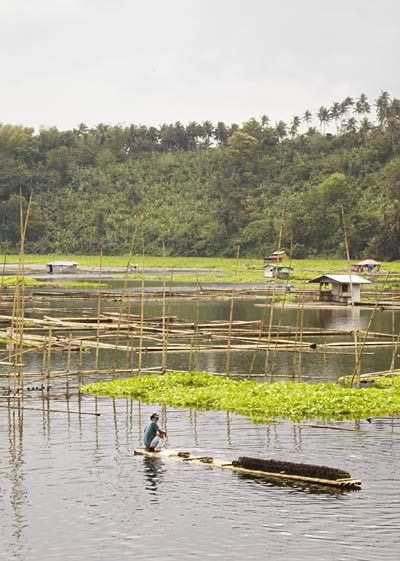 Fisherman at Lake Palakpakin

Panoramic view, Lake Palakpakin
And just for the heck of it, we went to Bunot Lake as well. We haven't been to Bunot lake since I was a kid, so a return visit is long overdue.

Panoramic view, Bunot Lake
My brother sent me a sattelite photo of San Pablo City with all the lakes clearly visible. How cool is that? Google Earth really rocks! If you haven't downloaded this program yet,
GO HERE
. This program is amazing. Selected places are in crazy high res. You can see the pyramids in Egypt, buildings in New York in close up, see St. Peter's Basilica in Rome, see streets and houses in Cavite and Bulacan. I sure wish they'd add high res images of Manila and San Pablo soon!
But as it is, the clearest you can see of San Pablo is like this: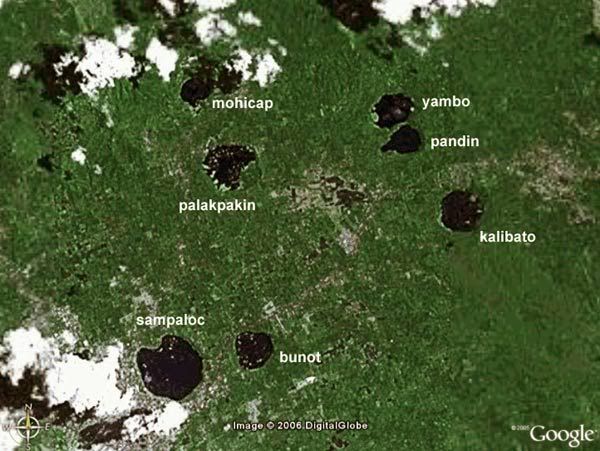 Our house is a five minute walk to the western edge of Sampalok Lake.
That Gaiman Comics Contest
My CTS flared up again after finishing Humanis Rex #11 that it made me incapable of finishing my entry to the Neil Gaiman/Fully Booked comics contest. To be honest, not being able to join doesn't make me feel as bad as letting down David Hontiveros yet again. I really wanted to do this for him than anything else. Heartfelt apologies to Dave with a sincere promise that I will make it up to you in a big way in the future.
Good Luck to all those who will join! Because of the high profile of this contest, and the fact that winners and runners up will be published, I really believe that this will bring out the absolute BEST in all who will join. I'm confident that this contest will see the debut of future superstars in Philippine comics.
Bumming Around
On an enforced break once again, I did some bit of writing, and edited together some photos and videos. Check out a Komikero music video and a short short film I did recently in my personal blog! :)

Nang Dahil Sa Trese
1 minute, 19 seconds
color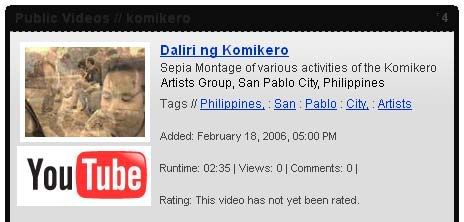 Daliri Ng Komikero
2 minutes, 35 seconds
sepia
"Daliri" Words and Music by Florante de Leon