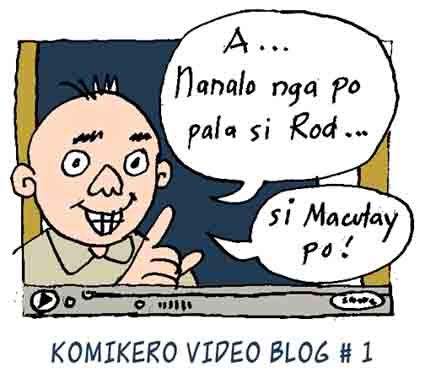 Video Blog Spoof by


Mario Macalindong
Someone offered me suggestions with regards to my video blogs and the fact that in the latest one I expressed difficulty in accomodating personal interviews because of my crazy schedule.
Why not do question and answer videos where I answer the most common questions put to me?
I think it's a great idea and it's something I'll definitely do. These things don't take very long to make anyway so I can easily fit them into whatever I'm working on.
There will only be one question per video so they can be easily searchable. I'll most likely start off by saying who I am, what my background is, what my work is, and so on. Then later I'll talk about how I broke in, influences, komiks history, suggestions to upcoming writers and artists, and so on.
Once again, I apologize to those students who want to do personal interviews with me. I really want to accomodate you all because I really love doing it, but just one interview takes a lot of time, and easily takes more than half of my entire working day (sometimes it takes the whole day). Right now, I just need all the time I can get, what with working on Humanis Rex!, Elmer, and various other comics and non-comics projects.
I remain open to e-mail questions and those I get to answer more or less right away.
Thanks to
GIO
for the suggestion!
+

Crescent Shield
, the Heavy Metal band who commissioned me to do a cover for them has previewed the cover on their
MySpace page
. If you dont' see the cover, click on the various songs on their MySpace Player to change the images.
+

I've finished doing "
The Making of Humanis Rex!
" video blog and I just can't wait to upload it at You Tube. I had a LOT of fun making that one, and I just can't wait to share it with everyone. My problem is, it's almost 12 minutes long. You Tube has a 10-minute limit on any upload, unless you have a "
Director's Account
".
As much as I don't like to get one, lest I be construed to consider myself a "real" director, I had no choice but to apply for one. But let me say here and now that I don't consider myself as a director, and when I refer to myself as one then I do it only for fun. I just consider myself a video enthusiast who loves putting together these little things.
Anyway, the application is taking longer to get approved. I hope they approve it before Sunday, the scheduled day I'll upload the video.
If not, I'll go ahead and upload the next one, Komikero Video Blog #7, which features an interview with
Arnold Arre
and his wife
Cynthia
.
+

Komikero Anniversary Meet!
Sorry for the short notice, pero Komikero meeting on Sunday, August 27! Medyo unpredictable ang weather, so kung umulan man, at wala kami sa usual places:
http://alanguilan.com/sanpablo/map1
/
You can find us sa Spaghetti House dito:
http://alanguilan.com/sanpablo/blog1/spaghouse.jpg
Malapit lang yan sa lake, dun sa mga hindi pa nakakapunta dyan.
Mukhang meron tayong dalawang bagong member, yung isa galing pa ng Butuan!
Nandoon na ako ng mga 11am, sa tapat ng bahay ni Aling Meding nagdo-drawing drawing. Kung umuulan, nasa Spaghetti House ako.
And yes! Gagawa ulit ako ng VIDEO BLOG!
KOMIKERO AUGUST ANNIVERSARY MEET
Sampalok Lake, San Pablo City (refer to map:
http://alanguilan.com/sanpablo/map1
/ )
August 27, 11am to sawa.
Bring your drawing materials, art for critique, etc.
Kita kita na lang!