An Interview with Arnold Arre
With Cynthia Bauzon-Arre
Komikero Video Blog #8
I spent most of August 19 with
Arnold Arre
, creator of such comics as Mythology Class, Trip To Tagaytay, After Eden and Andong Agimat, to just hang out. And since I brought my camera, I thought it would be a great opportunity to interview him for this site. It's a good thing that Arnold's wife Cynthia was also there and I got to ask her a couple of questions too.
There is one question I asked both of them separately, about something that I have noticing about Arnold's work for quite some time. You'll know when you see it.
+

I ran into
Hal Santiago
at a Book Sale in Makati yesterday. He's a voracious book reader and collector and when I asked him, he said he was looking for History books, specially Chinese history. It's amazing. At that age (at 65) his mind is still incredibly alert and willing to learn and grow. He looked like he was in excellent health and although he says he's no longer drawing, he just wants to enjoy his life now. How cool is that?
I wish I could have taken a video of him at least, as I brought my camera with me for the Book Awards, but quite honestly, I completely forgot.
I asked if I could visit him at home one of these days and he said sure. I'll be interviewing him for this site.
+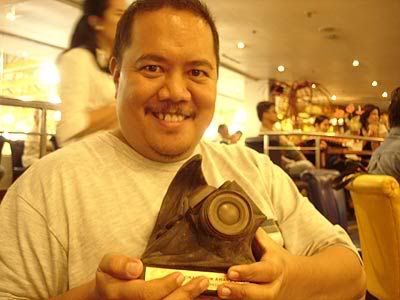 Siglo: Passion
won at the Manila Critics' Circle, National Book Awards! I wished Lastikman would have won, but looking at Siglo and the thing that was accomplished with that book, I knew my wish for Lastikman to win was just wishful thinking. I'm definitely happy that Siglo won, after all, I do have a special story of my own in it.
Quite naturally, where would I be nowadays without my camera to capture the event on video? I'll be putting the footage together and I'll have it up in a few days.