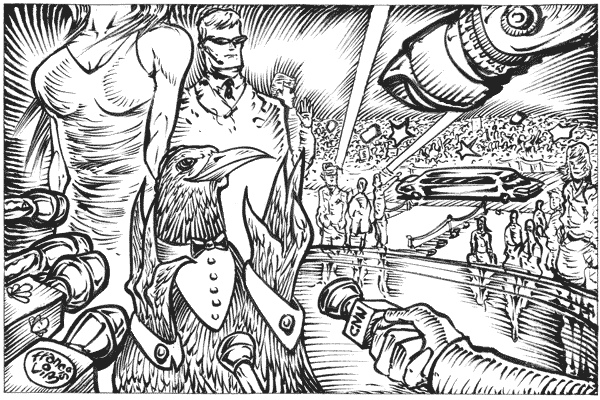 Francis Lim Elmer Art
Francis Lim of Butuan City sent me this great art for ELMER, depicting a movie premiere of a movie by the Francis character, who is an actor in the comic book. Thanks Francis for Francis!
For those of you familiar with how I integrate reader submitted drawings, I'll definitely make use of this one, but like always, I'll try to incorporate it in such a way it becomes part of the page rather than a distraction to it. I'll most likely use a part of it, specifically Francis himself, in probably the 3rd or 4th issue.
But I will most definitely include all the artwork I would receive, uncropped and unedited, in a future compilation, and of course, display in this blog as well.
Work is ongoing for
ELMER #2
, and I'm still on track for an Oct. 21 release. I've had to take a break to do
Humanis Rex
again though, this time Part 18. I'm not documenting it via video this time around though. To Edgar who said that I've drawn nothing but buildings in my last 2 installments, hinting perhaps that I don't know how to draw people, well, this time it's an all-people (and alien) spread, duking it out!
I'm not feeling 100% this morning, but I hope it's nothing that a Biogesic won't cure. I really can't afford to be sick right now.
+

I'm once again selling some original art on EBAY, this time a
COVER from Superman Birthright #8
! This is my inks right on Leinil's original pencils, of a young Lex Luthor burning. I wanted to play a prank on Leinil because I thought his drawing of young Lex here was great, but I thought I also found it somewhat amusing.
I thought I'd take a picture of myself in the same pose, integrate it into the page, save it as I normally would a black and white page, and send it as the cover to Superman Birthright #8. I wish I could be there to see him react to it.
But when the time came to actually send it, maybe I was feeling harassed by the deadline and other stuff, I actually forgot to send it, and sent the correct original back. I don't think Leinil has seen this yet.
Click Here for the Auction Page
. Two days left!