"At the National Book Awards"
Komikero Video Blog #9
I took some footage of the Book Awards last August 31. It features people like Wasted director Noel Lim, Dean Alfar, Vin Simbulan, Andrew Drilon, Elbert Or, Ruel De Vera, with additional footage from Sept 9 at the Book Fair with Wilson Tortosa, Ariel Atienza and Orvy Jundis.
+

The world according to Pablo
Published on page D6 of the August 23, 2006 issue of the Philippine Daily Inquirer
"LIKE MOST WRITERS, I CANnot single out one favorite from among the more than 300 komiks novels I've written," Pablo S. Gomez says. "But two stand out: 'Busabos' and 'ROTC,' because they're close to my life story."
Gomez acknowledges that a writer often mines his own life for plots.
"When I'm sad and broken-hearted, my stories turn out better," he confesses.
Gomez, now in his diamond year, has lived a life so colorful, convoluted and circuitous, it rivals his best-loved novels.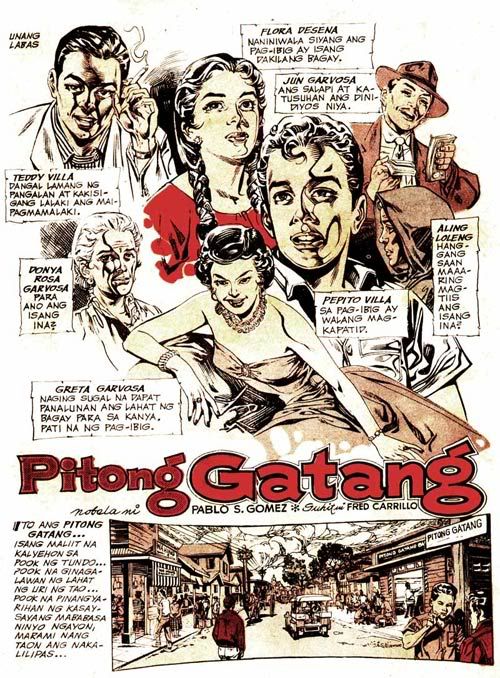 Pitong Gatang

,
written by

Pablo Gomez


Illustrated by

Fred Carrillo
+

This blog has been featured recently in
Filipinasoul.com's Blog Day 2006: Focus on Bloggers
. Thanks Maricar!
+

The issue of Fudge Magazine which includes the installment of Humanis Rex recently featured in the "Making of Humanis Rex" video is now available at various magazine outlets.
It seems I had just sent this in, now it's out, and another Humanis Rex deadline is staring at me in the face. Gotta work!