Bill Messner-Loebs Auction
Bill Messner Loebs is a comic book writer and artist from Michigan whose most widely read works include
Wonder Woman
(with artist Mike Deodato),
Flash
(with Greg LaRoque),
The Maxx
(with Sam Kieth),
Epicurus the Sage
(also with Sam Kieth), and
Journey
, which Bill drew as well.
Bill has fallen on hard times, much harder than most, and needs help from those who have appreciated his work. An auction is being set up and organized by
Neal Adams
and
Clifford Meth
with artwork being contributed by some of the most popular artists in the business including Chris Bachalo, Neal Adams, Gene Colan, John Romita Jr., Travis Charest, Mike Deodato, Alan Davis, Jose Luis Garcia Lopez, Dave Cockrum, Andy and Adam Kubert and so many more.
For a list of contributors with scans of their work, click
HERE
.
The auction will be a live one, which will be held at this year's International Comics Convention in San Diego at Room 9 (upstairs), July 14, Thursday at 7:00PM.
So if you happen to be in San Diego at this time, you might wanna check out what's up upstairs, and you just might end up helping out someone who really needs it.
I contributed an illustration of Conan which will be included in the auction. I know I don't have the names of those I've mentioned above, so I tried my best to make the drawing look really good so it could attract enough attention that some people would actually want to buy it.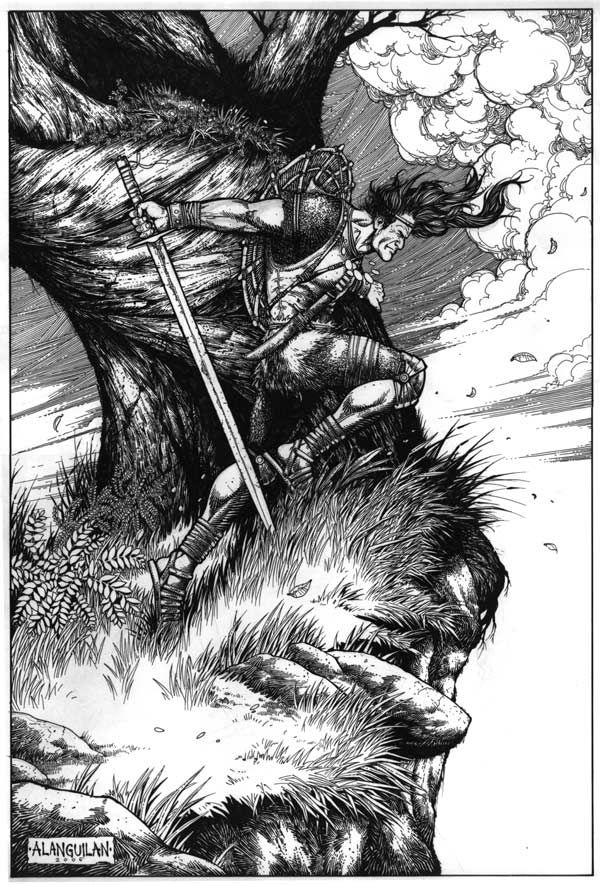 Although I'm not an avid follower of Bill's work, I have enjoyed those comics that he did write. There is a certain solidarity I feel with anyone who works in the same field as I do, and his difficulties in life is something I understand, after meeting other comic book artists here in the Philippines which have fallen on hard times. If I could help them all I would. Sometimes I wish to be in a position to offer them an opportunity to work. Hopefully, maybe one day...
Additionally, all artwork from Bill's auction will appear in a sketchbook to be published by TwoMorrows this month. If you can't buy any of the original art, buying this sketchbook will benefit Bill as well because all proceeds of this publication will go directly to him.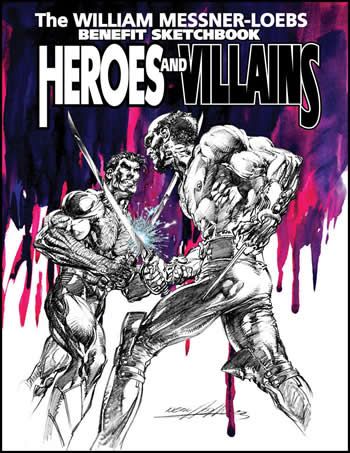 Here's the press release from TwoMorrows Site:
Heroes & Villains: The William Messner-Loebs Benefit Sketchbook
- $29.00
96 page Trade Paperback - Edited by Clifford Meth
Inkpot Award-winning artist/writer Wm. Messner-Loebs (Journey, The Flash, Wonder Woman) has fallen into financial ruin, landing the beloved comics creator in a Salvation Army shelter. To make matters worse, his wife is chronically ill and there's no medical insurance and no work or funds coming in.
In response, leading comics creators have joined forces with TwoMorrows Publishing to produce Heroes And Villains a gorgeous sketchbook and tribute, the proceeds of which will directly benefit Messner-Loebs. Edited by Clifford Meth, the book will include art from Mike Allred, Brent Anderson, Chris Bachalo, Mark Bagley, John Cassaday, Travis Charest, Dave & Paty Cockrum, Gene Colan, Alan Davis, Mike Deodato, Cully Hamner, Dean Haspiel, Greg Horn, Rafael Kayanan, Andy Kubert, Steve Lieber, Steve McNiven, Tom Palmer, Joe Quesada, Darick Robertson, Walt Simonson, Herb Trimpe, Billy Tucci, Sal Velluto and a host of other top pros!
PLUS: Written contributions from Neil Gaiman, Peter David, and Beau Smith, and a new cover by Neal Adams! Don't miss your chance to help a worthy comics veteran; with more names being added daily, this powerhouse collection of talent will be unparalleled!
The sketchbook can be ordered directly from TwoMorrow's site linked below.
HEROES & VILLAINS: The William Messner-Loebs Benefit Sketchbook