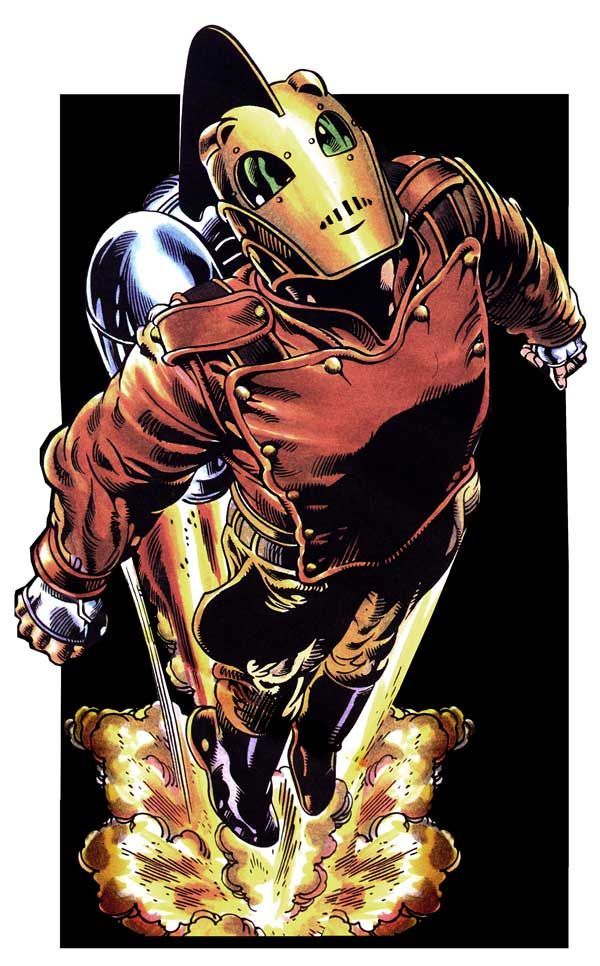 Dell Barras
Rocketeer Illustration
The Rocketeer Story Book
Published by Walt Disney Pictures, 1991
The Rocketeer created by
Dave Stevens
Dell Barras began his career in comics in the Philippines illustrating various stories like "DARNA and the Black Widow" and "Asawa ng Sailor" for Bulaklak and other local companies. Romeo Tanghal introduced Dell to DC Comics editors which began a long career in comics and animation in the US. He has worked as inker and artist on various titles for Marvel and DC including New Mutants, Champions, Defenders, Micronauts, Superman, Batman, Green Arrow, Spiderman, Hulk, Conan and various comics for Neal Adams' Continuity Comics.
I saw Dell's work for the first time on the pages of New Mutants where he inked Keith Pollard for one issue. I was a huge fan of Chris Claremont's New Mutants, and it was a run that I still find to be very good and quite underrated. I immediately noticed how familar the art seemed to be although I've never seen Dell's linework before. The line art seemed to have a softness and grace that I didn't see in most of the comics I was reading at the time.
It would be many years later when I would learn that Dell was actually Filipino, and the familiarity I felt with his work suddenly made sense. This fact was pointed out to me by Whilce, who had met Dell previously.
Dell is currently working as a designer, animator, and storyboard artist for films, television and the Internet, and is based in Van Nuys, California.
A frequent visitor to Komikero.com, Dell has been helpful in getting me in touch with many other Filipino Komiks illustrators and providing information and artwork that greatly enrich this site.
You can visit Dell's official site, where you can see more of his art below:
THE ART OF DELL BARRAS
http://www.media-blastoff.net/