Kampanerang Kuba
Kampanerang Kuba is one of the latest popular television serials based on comic book stories. Created in 1971 by
Pablo S. Gomez
and illustrated by the legendary
Alex Niño
, Kampanerang Kuba appeared on the pages of Planet Komiks, published by Pablo Gomez himself through his PSG Publishing House, based in Balete Drive in Quezon City.
Below are a few pages from the comic book series, which originally appeared in Planet Komiks #82, May 12, 1971.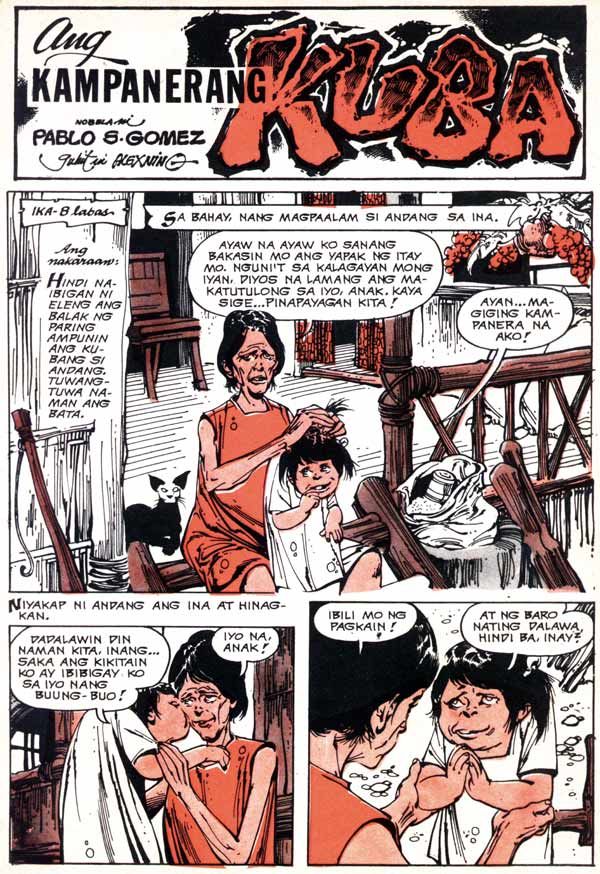 *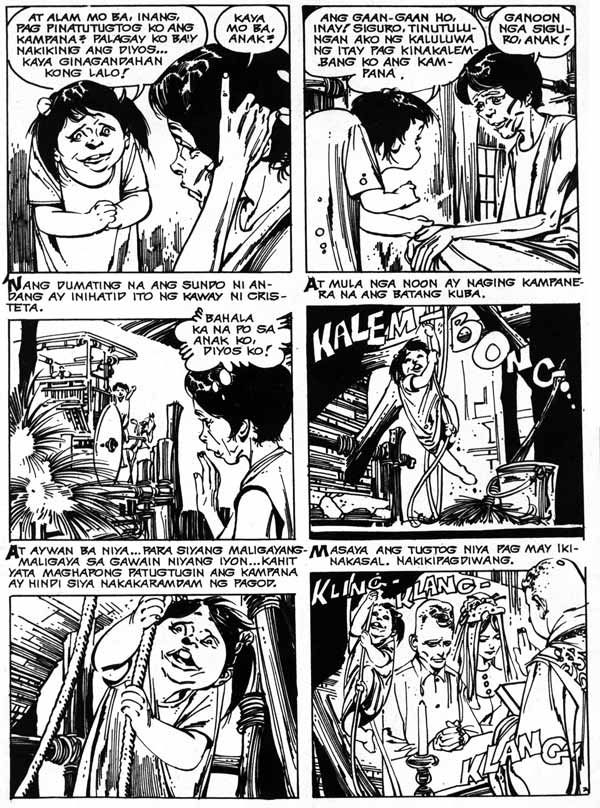 *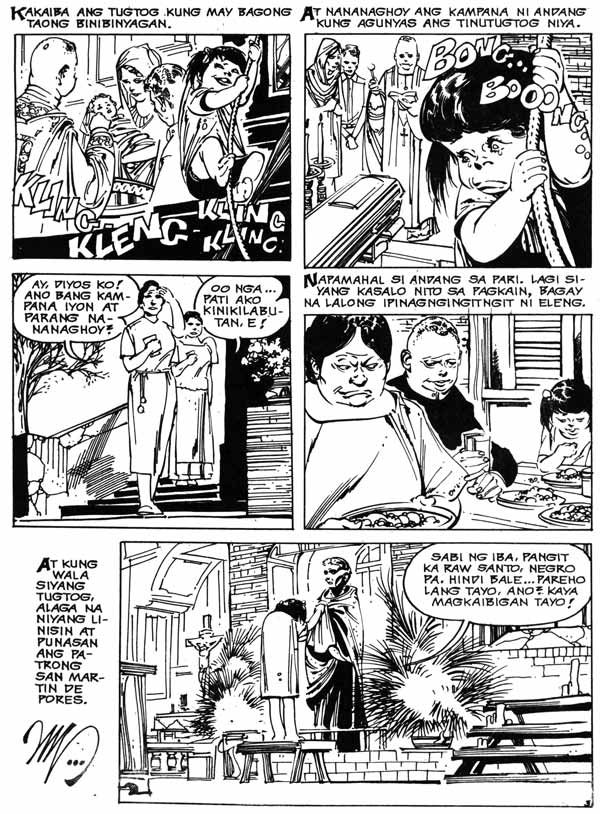 In all the hoopla surrounding the show, it's quite easy to overlook the artist who helped give birth to the original story, and I take the opportunity to show his work here.
Comics, Television and Films have always shared a very close association in Philippine entertaintment history, where comics stories were commonly made into either TV series or motion pictures. More than 50 of Francisco V. Coching's stories were adapted into films, which is astounding when one thinks about it. It only goes to remind us of such a close association of comics with other media, but also of the impact that Francisco V. Coching had on Philippine pop culture many decades ago.
Similarly, Kampanerang Kuba is only one of the many stories Pablo S. Gomez wrote which had been adapted into TV and film. Other stories include Pitong Gatang (starring Fernando Poe Jr.), Kurdapya (Dolphy, Gloria Romero), Mga Ligaw na Bulaklak (Susan Roces, Eddie Garcia), Nobody's Child (Tirso Cruz III, Vilma Santos), Tatlong Magadlena (Rita Gomez, Fred Montilla) and so many more.
There has been a renewed interest in comic book stories as a source of material for TV shows and movies, a trend that began with Marina and Kristala. Although Marina and Kristala were not adapated from comics, comics sensibilities certainly had a huge influence in their conception and execution.
It was inevitable that Darna would eventually be remade again in this time when such material seem to be much sought after. Other comic book properties have followed suit, with Panday currently in production, and now Kampanerang Kuba currently showing. Not too long ago, two people from two separate television studios got in touch with me looking for Jim Fernandez, who I assume are looking for the rights to adapt ZUMA to screen.
I do welcome such adaptations because it would hopefully remind people of the comic book origins of their favorite shows, and that although comics aren't as visible now as they once had been, they still remain to be part of our lives in one way or another.