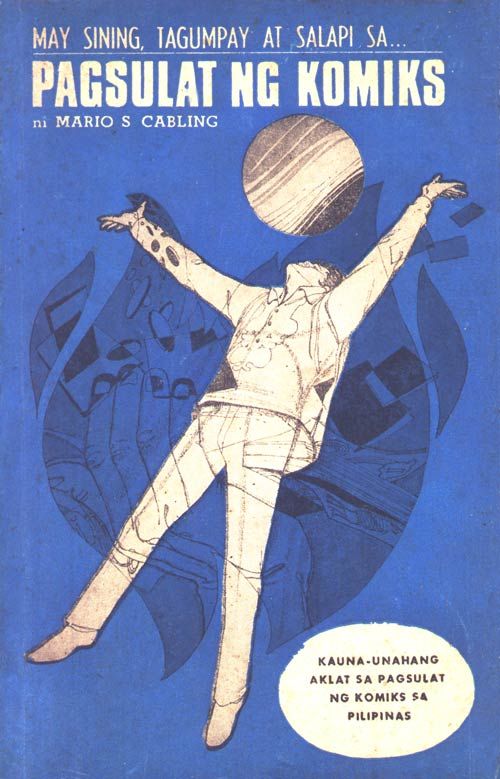 May Sining, Tagumpay at Salapi sa

Pagsulat ng Komiks
ni
Mario S. Cabling
Art, Success and Money in Writing Comics by Mario S. Cabling
Published by National Book Store, 1972
I don't remember when I came across this book. I think my dad must have bought it in one of his many forays in Recto in search for bargain books. Indeed, this book was bought for only one peso.
Written in Tagalog, this book describes in sufficient detail essential aspects of komiks in the Philippines, circa 1970, from it's definition, characteristics, history, to its effect on Philippine society. It breaks down the fundamental parts of a comic book, the kind of stories that can be told, and interestingly enough, how they can be told, as determined by a "comics code" called the Golden Code of APEPCOM (Association of Philippine Editors, Publishers of Comics and Magazines).
History would bear out that the enforcement and adherence to the code is moderate at best, but at that particular time in the early years of Martial Law, adherence was practically mandatory.
The book describes the different kinds of panel layouts can be made on a page, as can be directed by the writer, indication of the ascendance of the writer over the artist, a characteristic of Philippine comics that persists to this day. As an example, Carlo Caparas, Mars Ravelo, Pablo S. Gomez are the names you hear when their characters Panday, Darna and Lastikman, and Kampanerang Kuba are referred to, but no mention at all of the artists who created those characters along with them. Steven Gan, artist on Panday, told me in an interview that he was largely resp0nsible for the look of the Panday character including other cast, clothing, weapons and other visual elements. That would make him practically a co-creator, and should benefit from any and all usage of that character in comics and other media. Fixing this oversight is one of the goals this site will try to accomplish.
Back to book, it also goes on in good detail how to properly write a script with the proper format, draft a proposal, provides a list of publishers and their addresses, and even offers tips on how to negotiate for a proper rate.
It's an interesting document that gives a peek into how comics were created at a particular time (and certain things are still applicable today), but an update is sorely needed, not only for writers but for artists as well.