Will Eisner Tribute
Also out this month is Comic Book Artist Volume 2, #6, published by Top Shelf
, an all Will Eisner Tribute issue. When a call came out many months ago for contributions, I immediately asked if I could send an illustration, and they said yes, and I came up with this one....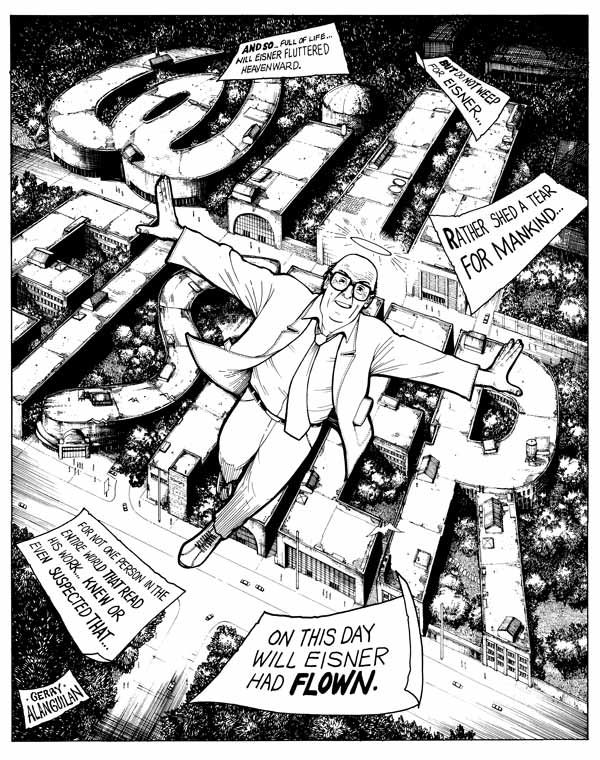 I did not grow up with Will Eisner's stories and art. I did not have a chance to see his work at all because publications containing his stories were non existent where I was. It would be many years later when I would encounter his work when I bought several Kitchen Sink reprints of Eisner's SPIRIT. And I was immediately fascinated by the vitality, the movement, and well, pardon the pun, the "spirit" of his work. Seeing that was very inspiring, and his sense of storytelling is something that I continue to be fascinated with, and apply, whenever I can, to my own work.
He was a tremendously inspiring man, working well into his old age with an energy and drive that would tire a young man. I can only hope to live and work as long.
From Top Shelf's website:
Comic Book Artist Vol. 2, #6, edited by Jon B. Cooke
The CBA All-Star Tribute Honoring the Great Sequential Art Master, Will Eisner. This double-sized memorial issue features remembrances, art and essays by over 200 artists, writers, editors, friends and fans celebrating the man, his superlative 70-year career and unprecedented impact on the art form.
Behind a Dave Gibbons cover, this mammoth special contains tribute art by an incredibly diverse group of creators, including Mike Allred, Murphy Anderson, Donna Barr, Frank Cho, Darwyn Cooke, Geof Darrow, Jack Davis, Mike Diana, Irwin Hasen, Gilbert Hernandez, Alex Horley, Everett Raymond Kinstler, David Levine, Joe Linsner, Mark Martin, Mike Mignola, Eric Powell, Mike Ploog, Trina Robbins, Spain Rodriguez, Alex Ross, Craig Thompson, Tim Vigil, among many others. Included are interviews with Art Spiegelman, Jules Feiffer and Scott McCloud, on their friendships with Eisner and his influence on the future of comics.
Plus testimonials and anecdotes shared by a wide array of comic book pros, including Alan Moore, Neil Gaiman, Stan Lee, Richard Corben, Joe Kubert, David Mazzucchelli, Joe Simon, and many others. Join us to experience a spirit of good will as the creator's legion of admirers celebrate the life and mourn the passing of a true giant: Will Eisner.
-- 192 pages $14.50 (US)
You can buy this issue at your local comic book dealer, or at Top Shelf's site below:
http://www.topshelfcomix.com/catalog.php?type=12&title=470