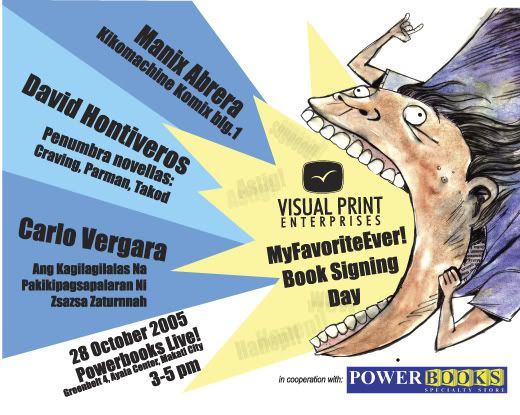 Visprint's "MyFavoriteEver!"
Book Signing Day
Powerbooks Live!, Greenbelt 4, Makati
October 28, Friday
3pm to 6pm
At the event...
Manix Abrera (
Kiko Machine Komix 1
)
David Hontiveros (
Penumbra
)
Carl Vergara (
Zsazsa Zaturnnah
)
David Hontiveros
is a one of those writers whose work I always find impressive, ever since I read that incredibly written Flashpoint comic book more than 10 years ago. I like his work so much that I asked him to script one of my stories (
Timawa: Kalinangan
), something I've never done before or since. I always try and get some kind of collaboration going between us, but for some reason or another (and always my shortcoming) it never happens. But he did give me a short story that I'm determined to finish sometime in the near future.
Carlo Vergara
is of course, the mad writer- artist of "Ang Kagila-gilalas na Pakikipagsapalaran ni ZsaZsa Zaturnnah", as well as the writer-artist of "One Night in Purgatory" and once a upon a time, a Flashpoint artist as well. I'm very happy to say that Carlo's work and mine will both appear in next year's
Graphic Classics: Rafael Sabatini
.
I've seen
Manix Abrera
's work on the pages of Mwahaha! and I can say he's doing truly original work. And he's quite a popular guy too because I literally hear girls giggle and swoon when they see his work. Amazing! I got his recently released book "
Mga Tagpong Mukhang Ewan at Kung Anu-Ano Pang Kababalaghan
!, Kikomachine Komix ni Manny Abrera", a compilation of his comic strips which appears daily in the Philippine Daily Inquirer. I've never met Manix until the Komikon last Saturday. It's unfortunate that I wasn't able to bring my copy of his book, but tomorrow I'll definitely will.
More on Vincent Kua Jr.
Tributes to the late comic book writer and illustrator Vincent Kua have appeared on the Internet from friends and those who knew him well. I wish I had the chance to get to know him better after meeting him briefly last year. Because my collection spans mostly from the 50's to the early 70's, I have very very little material on Vincent, but I hope to rectify this soon.
Tribute by Dennis Villegas
http://pilipinokomiks.blogspot.com/2005/10/vincent-kua-jr.html
Tribute by Randy Valiente
http://usapang-komiks.blogspot.com/2005/10/vincent-kua-jr.html
Tribute by Rey Villegas
http://reybronx.blogspot.com/2005/10/remembering-vincent-kua-jr.html
Randy Valiente put up a site for Vincent (which includes a gallery and information on his life and works) which you can find below.
The Comic Book Art of Vincent Kua Jr.
http://www.freewebs.com/vincentkuajr
More on Komikon 2005!
It was practically several reunions all at once. The Lakan Gang, the group who did the ill fated Lakan comic book from the early 90's, The Starfire Gang, the group of artists gathered together by Whilce Portacio from the mid to late 90's, and so forth. I even had a mini reunion with some former classmates from college.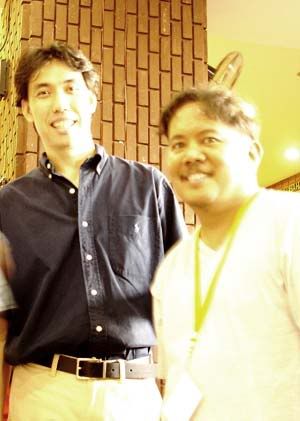 The Komikon had a surprise guest star in the form of
Efren "Jay" Anacleto
, who towers tall and talented beside me. He's the amazing artist of books like
Aria
. Click on that link. You'll be stunned and amazed if you haven't see his work yet.
There's my frequent collaborator
Leinil Francis Yu
(in the blue shirt), who's currently wrapping up Silent Dragon (which I'm inking) and starting up on Marvel's Ultimate Hulk and Wolverine. (
Thanks to Randy Valiente for this pic!
)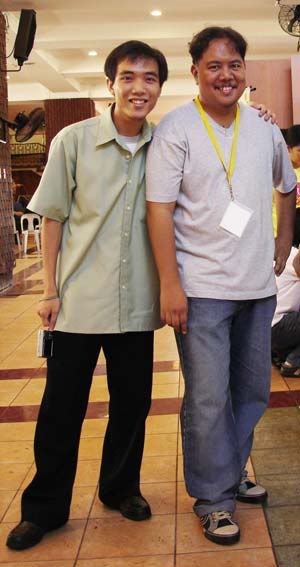 Another superstar artist attended the con in the form of
Wilson Tortosa
, who dresses a little bit more formally than I do. He's the popular artist of titles like Battle of the Planets, Tomb Raider and City of Heroes.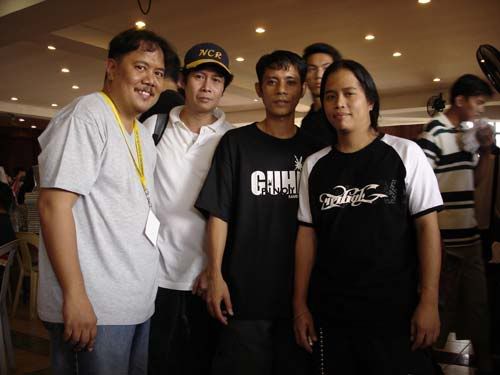 With Vic Aure, Mario Macalindong and Lui Antonio.
I haven't had the chance to say, but the Komikon 2005 was probably the best local event on comics I've been to so far (with exception to the San Pablo Comics Festival of course, but then I'm biased). There was some humorous moments like when this guy with a heart on his face asked some stuff for me to sign. Before he left, he told me, "I thought you'd be younger."
Ouch!
I'm trying to think of some way of making that sound positive. Maybe my work can still be appreciated by a younger audience... you know, I'd hate my work to be too old fashioned that younger people don't get it anymore. Yeah, that's it! Moving on...
Manning the booth kept me pretty busy and I never really had a chance to go around and check out what the other groups have come up with. I did manage to get some mini comics from some booths, and one of the most remarkable ones I got was
Askals
#1 and 2 by
Dodo Dayao
and
Bong Leal
.
Bong Leal is one of the most remarkable Filipino artists I've seen in a while. Budjette Tan recently uploaded a
pre-hispanic story
that Bong illustrated that just blew my socks off. So when I learned that he was drawing Askals, I made sure I got copies.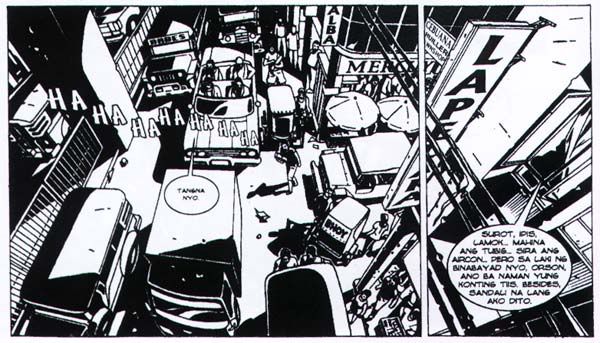 The attention to detail is amazing. Their depiction of Quiapo is authentic and well executed. If I can offer anything constructive, it would be 2 things. First would be my wish to see all of the pages inked. The uninked pages contrast heavily with the pages that have been inked, as the latter all look excellent. It gives an impression that the world is somehow unfinished, and makes you wish you could go back at a later date until it's done.
The 2nd would be the appearance of the gangsters cruising the Quiapo streets in a topdown, an image that seems more consistent with African-American gang culture rather than Filipino gang culture. The imagery is a little distracting, specially when contrasted with the authentic Quiapo backdrop.
Aside from that, I think this is a pretty good effort, and I'm definitely there for the next issue.
Thanks to everyone who came over to check out the booth, thanks also to those who gave me stuff (you know who you are). I really appreciate it. I thought the turnout was pretty good and the experience was positive enough for me to look forward to the next one.
More Komikon 2005 pics here:
Guhit Pinoy Gallery
http://guhitpinoykomiks.blogspot.com/2005/10/guhit-pinoy-sa-komikon-part-1.html
http://guhitpinoykomiks.blogspot.com/2005/10/guhit-pinoy-sa-komikon-part-2.html
http://guhitpinoykomiks.blogspot.com/2005/10/guhit-pinoy-sa-komikon-part-3.html
Randy Valiente
http://usapang-komiks.blogspot.com/2005/10/komikon_24.html
Edgar Tadeo
http://www.edgartadeo.com/nyekblog/archives/00000193.shtml
Wilson Tortosa
http://photobucket.com/albums/b98/batangbatugan/