I went to the
Visprint
Book Launch yesterday where my old pal
David Hontiveros
launched his
Penumbra
novellas
Takod, Craving
and
Parman
, categorized as 'Horror/Dark Fantasy". These aren't comics, but short novels, fine examples of Dave's writing, which I've been a fan of for a long time.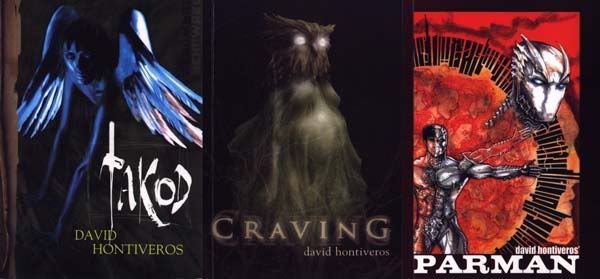 Dave of course, is a comic book writer as well, having worked on the pioneering Flashpoint, my own Timawa, Dhampyr, Horus, and Avatar, most of them for Alamat Comics.
At the launch were other Visprint talents including
Carlo Vergara
and Manix Abrera, who were at hand to talk about and sign their books.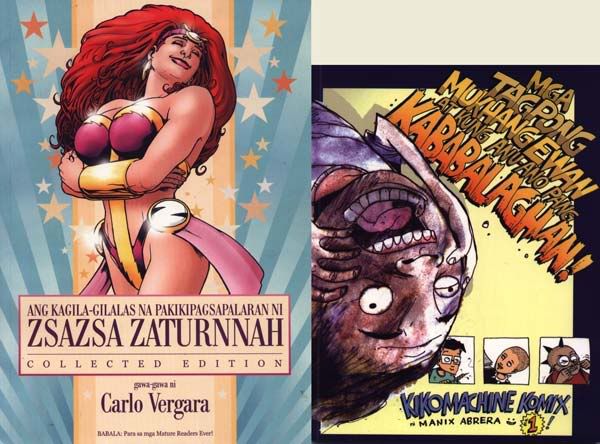 Amazingly, Carlo's "
Ang Kagila-Gilalas na Pakikipagsapalaran ni ZsaZsa Zaturnnah
" is on its third printing with Visprint, which I really don't find surprising because it truly is a terrific comic book.
For those not familiar with it, ZsaZsa Zaturnnah is about this gay beautician who, upon swallowing a magic stone, becomes a voluptuous all-woman superhero by the name of ZsaZsa! Sound familiar? It's a humorous take on a popular Philippine superheroine, but it manages to find a character on its own with its unique brand of comedy and adventure.
ZsaZsa is truly one of the best Pinoy comic books to come out in the last few decades, a book which I'm confident will endure and make a lasting impact.
Manix Abrera
, whose work I only encountered recently in Mwahaha, and I only just met during the Komikon, has come out with a book that compiles his comic strip "
Kikomachine Komix
" from the Philippine Daily Inquirer. Upon reading this book, I can truly say Manix is one of the more original and genuinely funny local comic strips I've read. As much as he denies it, he does look like his drawings.
I got to the launch pretty early, at around 2:30pm, and I was surprised, and not quite so surprised upon seeing Dave already there. I got his books and got them signed right away before he got too busy. Thanks Dave!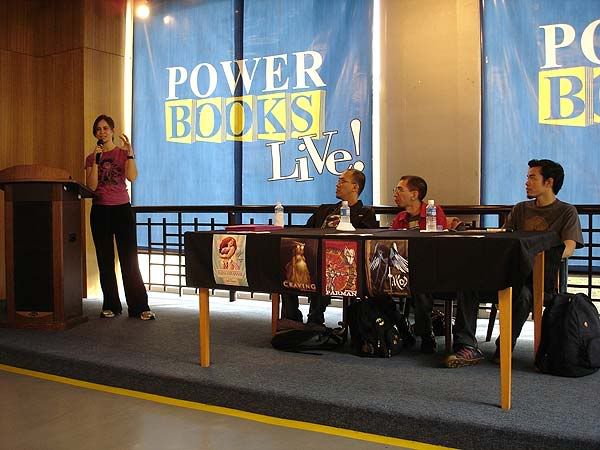 Writer/TV host
Karen Kunawicz
talks about David Hontiveros.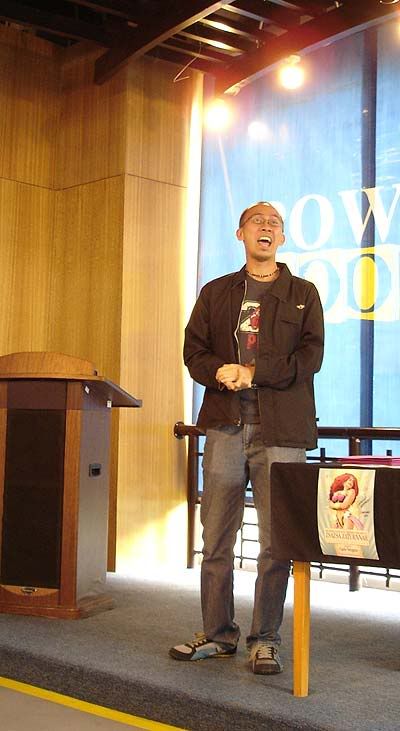 Carlo Vergara talks about ZsaZsa . He lets out this tantalizing tidbit about "Ang Kagila-Gilalas na Pakikipagsapalaran ni ZsaZsa Zaturnnah sa Kalakalang Maynila" for late 2006.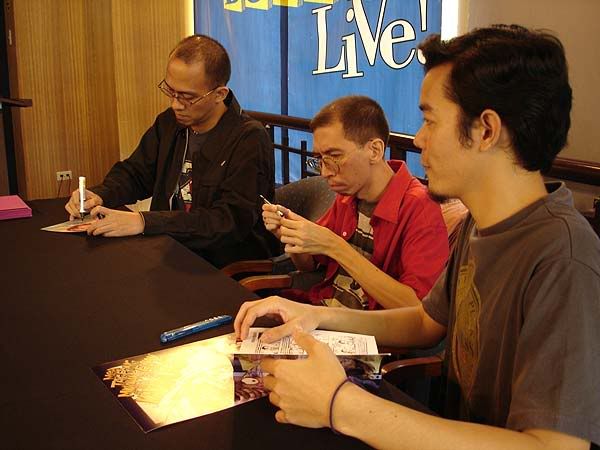 Carlo, David and Manix.
Dave looks like he's just about to murder his pen.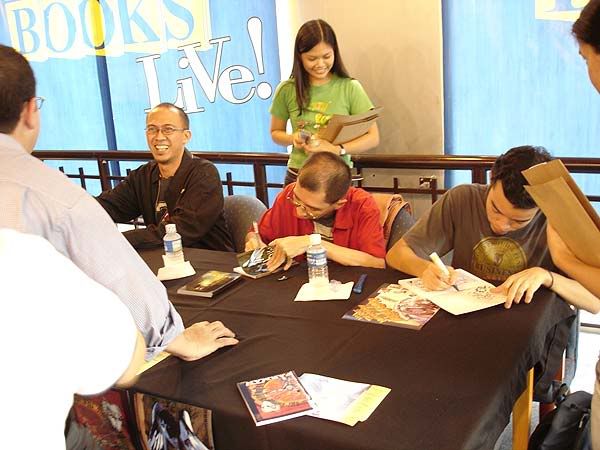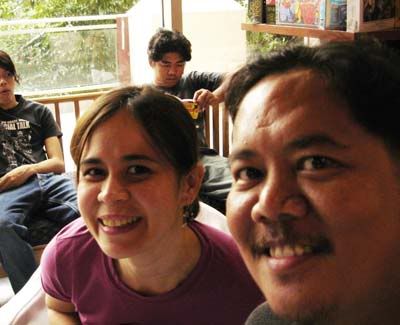 Me and Karen Kunawicz.
Me and Karen have been friends for a long time now, ever since around 1995. We have yet to meet personally when I received a letter from her about Wasted, which I was still halfway though doing at the time. We corresponded regularly from that time on.
I didn't stay too long at the launch as I still had to get back home to work on Silent Dragon. Congrats to Dave, Carlo and Manix! I really hope to see more of your work soon!