Whenever you see this little banner in my current post, there's
a new update
in the webcomics section of my site. It's Friday, so
a new installment
of
"I Had a Dream"
from Crest Hut Butt Shop has just been uploaded! Click on the image above
or here
.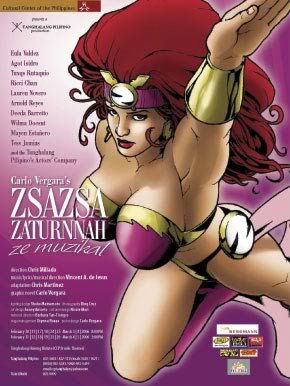 My congratulations go to my friend
Carlo Vergara
, whose landmark comic book "Ang Kagilagilalas na Pakikipagsapalaran ni Zsa Zsa Zaturnnah" or "Zsa Zsa" for short, is now a musical!
And a musical by the Tanghalang Pilipino of the Cultural Center of the Philippines, no less! Way to go, Carlo!
Here's more info:
The Cultural Center of the Philippines presents a Tanghalang Pilipino production:
Carlo Vergara's Zsazsa Zaturnnah: Ze Muzikal
Eula Valdez
Agot Isidro
Tuxqs Rutaquio
Ricci Chan
Lauren Novero
Arnold Reyes
Deeda Barretto
Wilma Doesnt
Mayen Estañero
Tess Jamias
and the Tanghalang Pilipino's Actors' Company
direction Chris Millado
music/lyrics/musical direction Vincent A. de Jesus
adaptation Chris Martinez
lighting design Shoko Matsumoto
choreography Ding Cruz
set design Sonny Aniceto
costume design Nicole Mori
technical direction Barbara Tan-Tiongco
stage management Chynna Roxas
February 10 | 11 | 17 | 18 | 24 | 25 March 3 | 4 | 2006 8:00PM
February 11 | 12 | 18 | 19 | 25 | 26 March 4 | 5 | 2006 3:00PM
Tanghalang Huseng Batute (CCP Studio Theater)
Tanghalang Pilipino 832-3661 / 832-1125 locals 1620 / 1621 /
(0920) 953-5381 / 0920 953-5419
email ccptanghalan@yahoo.com
TicketWorld 891-9999
*****************
Has there ever been other stage musicals based on comic book properties in the Philippines? I know they did a Darna ballet back in 2003 or 2004, but this is one based on the comic book of one I know personally, a comic book that came out during my time and I saw it being made.
I still remember Carlo showing me pages of this comic book, pages of running villagers being chased by a giant frog. Now how cool is that?
Congratulations go to Carlo and I hope this, and all his projects would be extremely successful!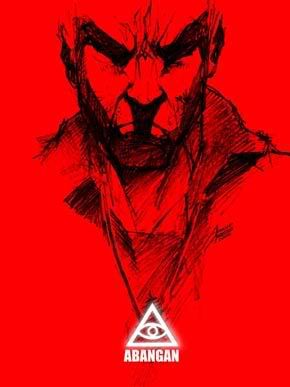 Arnold Arre
sent over this teaser of an upcoming project he's doing. I think he's mentioned this project for some time and he seemed pretty excited over it. I haven't seen pages of it myself, but I've seen other recent work by him (most notably Lastikman), and the quality of his work, good as it is was to begin with, is growing by leaps and bounds.
With these things, I'm convinced more than ever that 2006 will be a great year for Philippine comics!