Here's a message I got recently. I'm posting it here because the message bounced back to me when I replied. I welcome all correspondences and I feel bad when they're unable to receive my reply. To prevent any problems, please make sure you spell your email address correctly in the address field so the message gets back to you OK.
"Sir, you might have referrals as to how i could get hold of a copy of this. It's for a research paper i'm doing regarding pinoy superheroes. Many thanks!" -Darnel V.
Hey Darnel...
If you're in the Philippines, you can get Lastikman at National Bookstore and Powerbooks. Since it's a little old, you might find it tucked behind the other comics. It's also available at Comicquest and Filbars.
If you're abroad, I think you can still get a copy here:
http://www.kabayancentral.com/onlyindphil/lastikman.html
****************
I'm trying to redesign the main site (http://www.komikero.com) so it represents more comprehensively what I've been up to in my work. I'm hoping to make it look uncluttered, more comic book-y, and give visitors a quick overview of my work in just once glance. I hope to put it up before ELMER #1 hits the shelves next week.
For the meantime, I'm working on Part 14 of
HUMANIS REX!
, my other major work for the moment. I got some interesting feedback to Humanis Rex all the way from, believe it or not,
France
. His observations on my work in this series is so spot on it's eerie. Basically, he hits upon the inconsistency in the style that I use, from the
simple linework
from some parts to
heavily rendered
in some parts. He did say that this particular style would probably fit more in the European market rather than American.
I guess I was trying to define in the artwork the different time periods the story is set in. Anything set in the past would be heavily rendered with hatchings, while anything set in the far future would be rendered more simply, with hardly any hatchings at all. Apparently, it's still something I'm struggling with.
The "clean" style of comics art is something I've been
attempting to do
for such a long time and I've yet to hit on the balance that works best for me and I'm aesthetically satisfied with. There are definitely parts of Humanis Rex that I like a lot,
specially this one
, because it's come close to what I've imagined what I like this particular aspect of my work to be.
I don't want to completely abandon a fully rendered kind of illustration, as it's something I've always wanted to apply to one complete comic book. After ELMER it's something I'm hoping to attempt.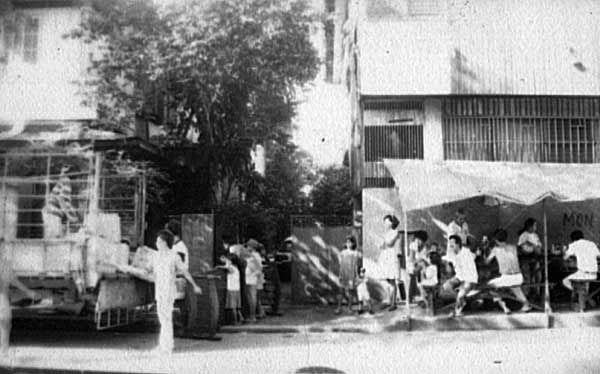 Ilyn was rummaging through our old pictures when she came across a contact print of a black and white roll of film. I was pleasantly surprised to see what pictures there are in the print including this one, which I had to blow up considerably.
It's our old apartment at Aguado St. in San Miguel, Manila. On the left is the house of our landlord Mr. Montesa, in the middle is the gate and driveway, and on the 2nd floor of the building on the right is the apartment I lived in from 1979 to 1993. This photo was taken in 1993 on the day we moved to another apartment in P. Noval in Sampaloc, Manila. That's my bed being lugged up to the truck. I haven't seen this photograph in a long time, and I haven't seen our old apartment in years.
And yet, this particular apartment and driveway (including our landlord's house) are things I drew completely from memory for use in Humanis Rex! #10, where the main character recognizes his old home.

When Rodel Esguerra says, "It's my house! I live here!", it's actually me who's saying it. Almost 15 years I lived in that house. I practically grew up there. It would be tough to forget. I didn't get the windows on the ground floor completely right though.