I got some press lately from some really unexpected places. This first one came from a local showbiz magazine THE BUZZ, published by ABS-CBN. Here's a scan of the page, but if you would like to see it in print, it came out in their December 2006 issue, Volume 3, Issue #12. The article is written by
Liza P. Endaya
.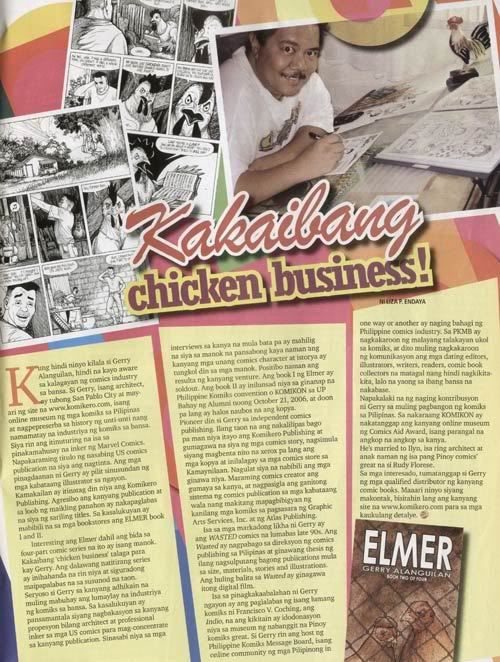 I find it really amusing to find myself in a magazine liek this. In it there's people like Katrina Halili, Kristine Hermosa, Sandara Park, Claudine Barretto, Rosanna Roces, Alessandra de Rossi and Regine Velasquez. And then there's....
me
. he.he. In the page across me is Manila Mayor's son "Kuya" Kim Atienza. I see him on TV a lot. I think he's funny looking. And I mean that as a compliment.
This next one is from, wow! Liwayway Magazine! It's written by my pal
Randy Valiente
.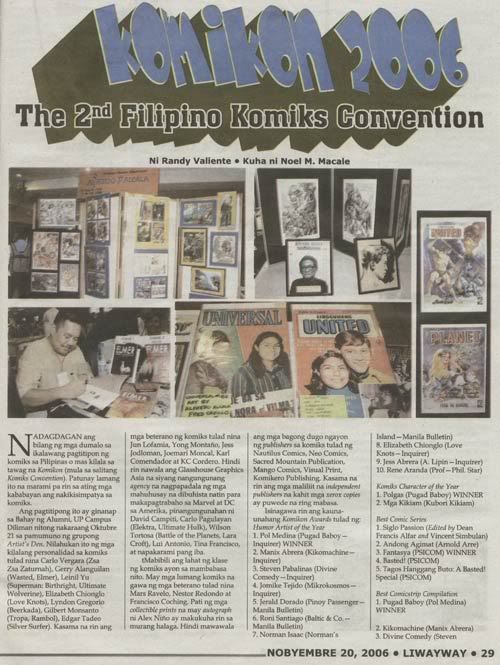 It's an article about the recent Komikon held at UP Diliman. I'm not sure if you can still buy it since it's from a week ago, dated November 20, 2006. I think it's really cool to find myself on the pages of Liwayway Magazine at last! I still plan on contributing something to them really soon.
This last one is from, curiously enough, Batangas Post, dated November 6-12, 2006.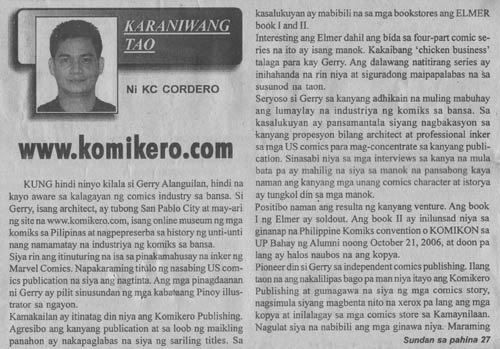 It's written by
KC Cordero
, the same guy who gave us Filipino Komiks #1, and is Associate Editor of The Buzz Magazine. KC has been doing a lot to help the komiks industry, and I find it really admirable.
One of these days I'll upload large and readable versions of these articles. I just wanted to post them to say thanks to KC, Randy, and Liza. Thanks guys! Mabuhay kayo!