A Philippine School for Comics?

I have heard word about the establishment of an actual course in comics illustration, being proposed at
De La Salle College Of Saint Benilde
along Taft Avenue in Manila.
I first heard of it from
Azrael Coladilla
, who reports in his blog of his communication with Benjie Marasigan, a professor of animation at DLS-CSB. As far as I can tell, the proposal has been submitted, and they are currently awaiting approval. If all goes well, the course will be offered at the beginning of the next school year in June of 2007.
The comics industry is a pretty strange thing. It is one of those kinds of jobs that you don't need a diploma, or any formal education, or highest marks in your transcript to get in. A dilploma in this course by no means gives you an edge over those who don't have it. It's all about the work. It's all about your art. Is it good enough? Can you turn it in on time? At the end of the day, your art is all that editors will look at. It doesn't matter if you graduate summa cum laude... if your art is not good enough, you won't get in.
HOWEVER, I still welcome a school like this because people who are interested in becoming comic book artists will now have a school in which to learn the craft and the profession. Whilce Portacio was one of the first to offer such an officially recognized course, in association with the Philippine Women's Universtiy (enrollment doesn't disqualify men). Although short lived, the school did produce a lot of good artists who have been able to work in the industry eventually.
Nestor Malgapo
also had a correspondence course, but I'm not sure if it's still operating.
Additionally, I can now have something I can refer to those who have been emailing me about learning how to do comics. It's something that can't be taught in one or two emails, but it's definitely something that can be taught at a comics illustration course such as this.
It's also a step towards legitimizing comics as a true profession in the eyes of the general Filipino public, and a definite step towards the recognition of comics as art.
So yeah, I hope they do approve it, and I thank them in advance for doing so!
+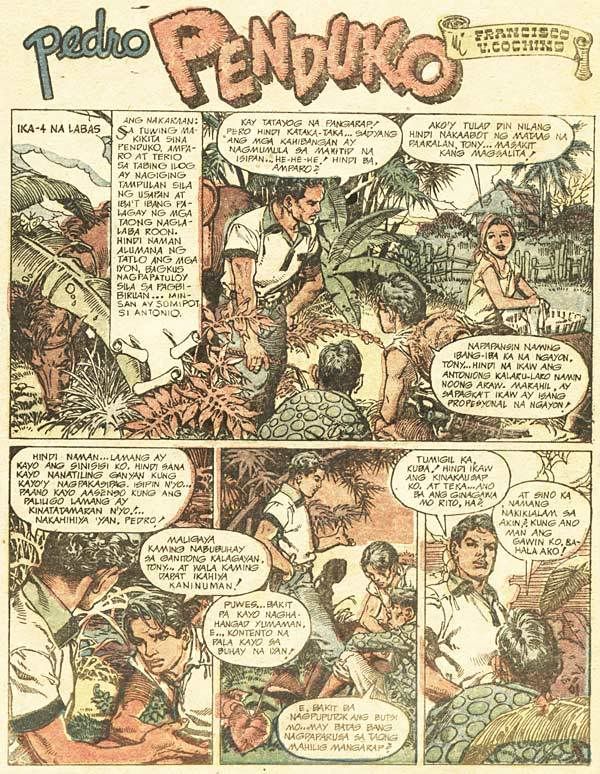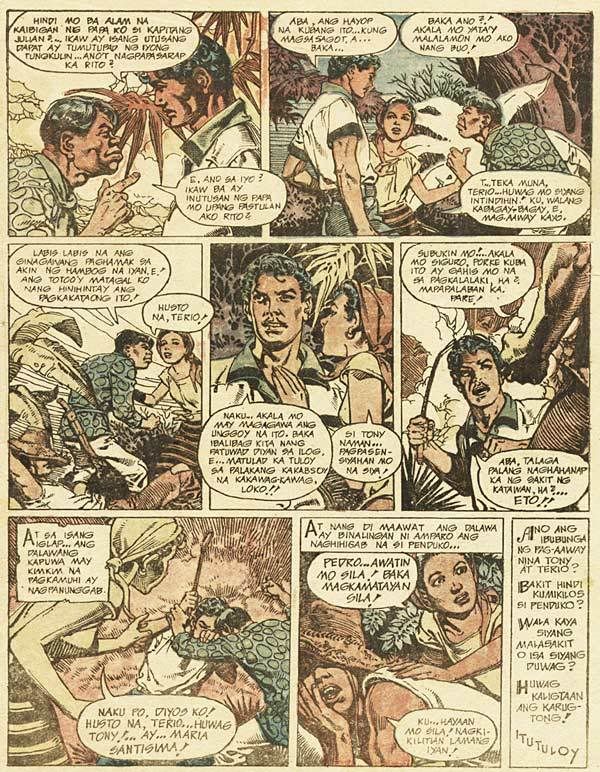 Pedro Penduko


by Francisco V. Coching
Liwayway Magazine, April 5, 1954
"The Adventures of Pedro Penduko" is currently being serialized on TV by ABS-CBN, the story by Coching that is probably his most popular, having been translated into movies several times in the past.
To be honest, I know very little of Pedro Penduko. The installment above of the story from a 1954 issue of Liwayway Magazine is my only exposure to the original story. I actually have confused the character as being part of Philippine mythology along with Bernardio Carpio. That it has penetrated so deeply in Philippine culture only speaks of it's popularity and enduring quality.