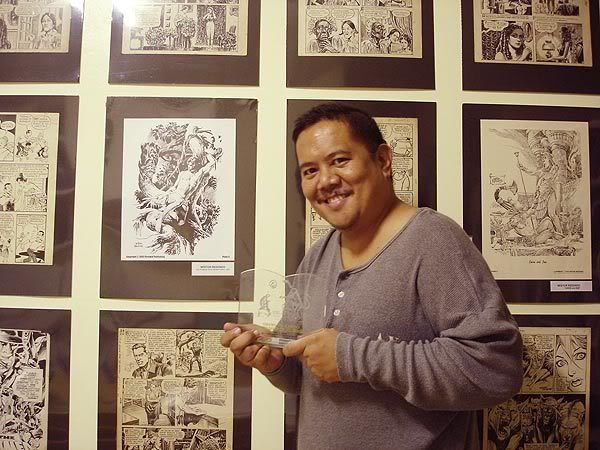 Philippine Comics Art Musem Online
"Comics Aid Award"
Komikon 2006
I'm happy to announce that the online museum has won the "Comics Aid" Award at the recently held Komikon 2006. Thanks to Komikon and to all those who voted for my site! I definitely will continue doing what I've always done with the site in the couple of years its been online.
Speaking of which, the online museum has finally been transferred, fixed and updated, after moving service providers a few months ago. I'm not sure if everything is completely OK, so I'd really appreciate if anyone could inform me of any broken links. Thanks!
This update comes with a major update of
Alex Niño
's profile to conform with the online museum's established profile format.
Click here
to go directly to Alex's profile and gallery page.
From this time on, the Philippine Comics Art Museum online can be found at this address:
http://www.komikero.com
is still active, and will point to the above address when the musem link is clicked.
You will find though, that the previous address, komikero.com/museum may still work, but the links there have not been corrected, and I will be taking down its content in a few months.
Now that the site has been fixed, I will continue to update it on a weekly basis. Profiles that will go up in the coming weeks will be those of
Ernie Chan, Abe Ocampo
and
Jun Lofamia
.
+

Filipino Comics In the News!
Heidi MacDonald
of
The Publisher's Weekly's The Beat
has a feature on Philippine Comics, focusing on the recent Komikon, Bemjamin Ong Pang Kean's Newsarama articles, the online museum, as well as ELMER! Yeah! Thanks very much Heidi!
Indicentally, Heidi MacDonald is the co-author of Alfredo Alcala's art book "Secret Teachings of a Comic Book Master" and a former DC Comics editor (Vertigo).