Liwayway, August 22, 2005
If you can, grab yourself a copy of this week's issue of Liwayway Magazine. It seems to be a major change of pace as showbiz stuff had been mostly done away with, replaced with features commemorating "Buwan ng Wika" (Language Month).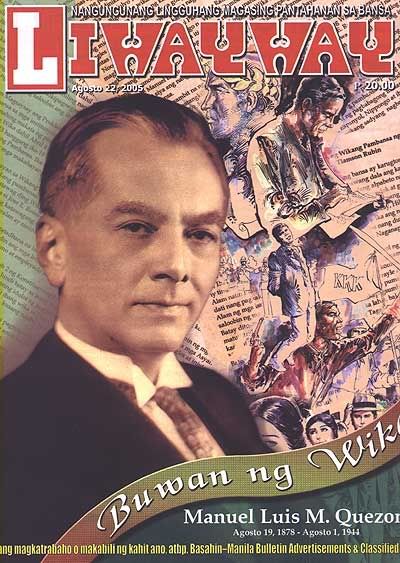 The cover features artwork by
Jun Lofamia
, reproduced uncropped inside. Other features include:
*
Paggunita Kay Manuel Luis Quezon
by Boy Silverio. A feature on the first Filipino president, born on August 19, 1878 ( Happy Birthday, sir!) and died August 1, 1944.
*
Pahapyaw na Kasaysayan ng Wikang Pambansa ng Pilipinas.
As the title indicates, a glancing view of the history of PILIPINO, the National Language of the Philippines.
*Features on prominent Filipino writers like
Carlos Valdez Ronquillo
and
Efren R. Abueg
.
*A feature on the Battle of Pinaglabanan
*A short history of Philippine Film, with spotlight on Charito Solis, Gloria Romero and Luis Gonzales.
*A short history of Liwayway Magazine. Interestingly, the magazine actually started out as a photo magazine called "Photo News" before transforming into Liwaway. Much mention has been made of the writers who gained prominence on the pages of the magazine, but it's disappointing that no mention at all of the remarkable comics and artists that regularly appeared on its pages since 1929.
Nevertheless, this issue features more of Jun Lofamia's gorgeous artwork, some of which are reproduced below.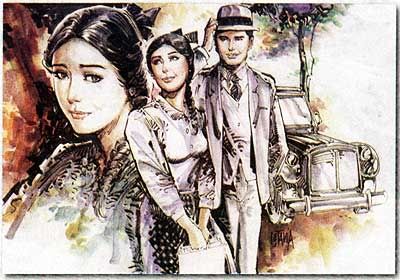 Jun Lofamia


"Nadaya" written by Silvio Ruiz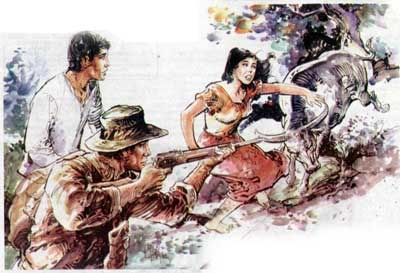 Jun Lofamia


"Mga Mata ng Kaluluwa" written by Severino Reyes
Plus more watercolor comics from
Hal Santiago
, and other comics and illustrations by Nar Cantillo, Rod Lofamia, Pablo S. Gomez and Rico Rival, R.R. Marcelino and Abe Ocampo, Ricardo M. de Luna, Vic J. Poblete and Rudy Villanueva, Perry C. Mangilaya and Alfred C. Manuel and Mike de Leon.
*********************
New Alex Niño Book
Alex Niño has a new book available available at Bud Plant's site, published by Stuart Ng.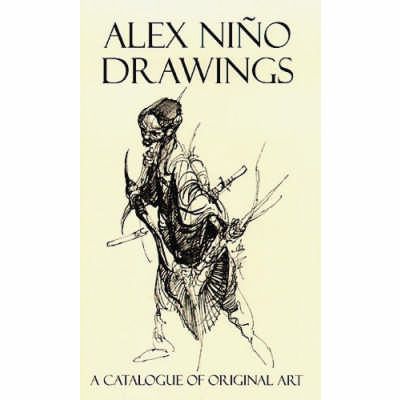 ALEX NIÑO DRAWINGS
By Alex Niño.
A Catalogue of Original Art.
A collection of 63 pen & ink drawings, created spontaneously in a single sketchbook, which is reproduced here in its entirety. With just a few lines, Niño creates vivid characters--exotic women, monsters, warriors and strange beasts.
Niño has worked in comics since the 1970s. He has worked primarily in animation since the early 1990s on Disney films such as Mulan, Atlantis, and Treasure Planet.
Stuart Ng, 2005
5x8, 61pg, b&w, $15.00
Copies can be ordered at
Bud Plant's Site Here
.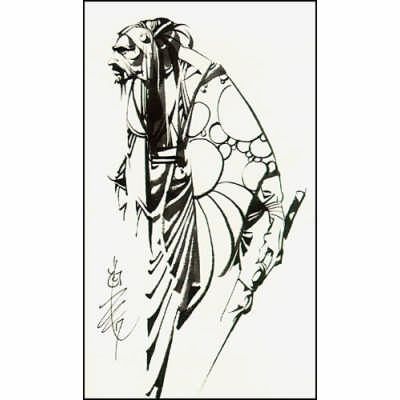 Thanks to Zatrikon for the head's up!