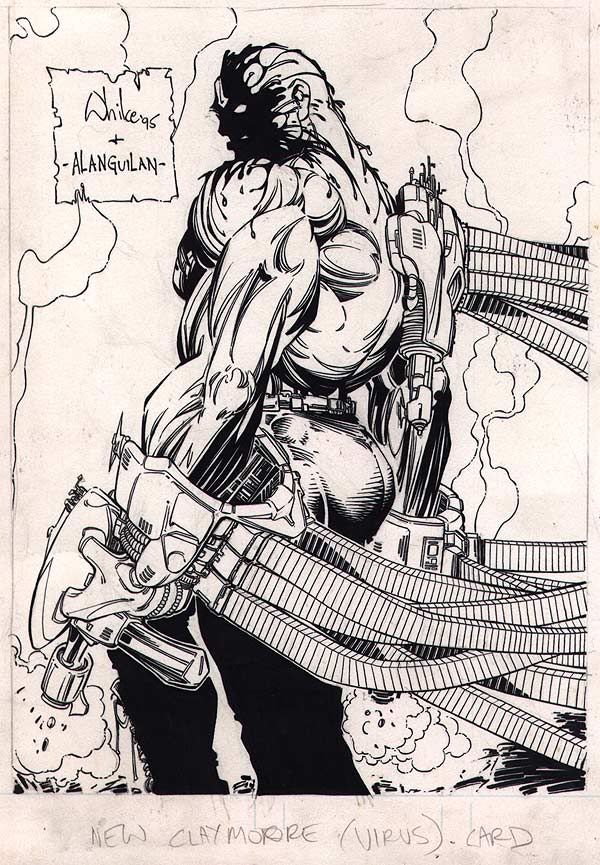 Inking Portfolio #5
Wetworks Trading Cards
New Claymore (Virus) Card
I did not start working right away after finishing Aster #2. After a few weeks of training in Photoshop, pencilling, inking, and computer coloring, Whilce decided that my inking is the strongest of my work, an observation that was shared by Bart Sears in my entry to the Cable Cover Contest in Wizard Magazine #21. I was a little disappointed, because drawing was what I really wanted to do and that as an inker, I felt all I would be doing would be to follow the lead of another artist. It was quite a tough pill to swallow, but if I showed any disappointment, it was very quick and I don't think anybody noticed. It is something I don't like showing, specially since I knew the assesment was right. Although I felt I had something to offer as a penciller, I also realize that I may be still quite slow, and that my work still needed some practice in many areas. I'll continue to learn the ropes, get my foot in the door, get some experience and study, study, study. Practice, practice, practice.
I had moved in to the studio where I trained closely with Whilce, and other artists like Roy Allan Martinez, Arnold Arre, Oliver Pulumbarit, John Toledo, and another artist whose name I forget. I think his name was Jon?, who had been working for Taekwondogs. It had been determined that Jon and I worked best together and I began inking his work in earnest as part of our training. I thought Jon was pretty good and his work was quite strong. He actually had the chance to work on the first couple of pages of Wetworks #13, but nervous perhaps under work conditions he probably froze and was not able to do continue. He stopped going to the studio and I've always wondered what had become of him.
One day Whilce came out of his room and handed me several pencilled spot illustrations of Wetworks characters. I remember being handed the one above, and drawings of Mother One, Dozer and I think maybe Jester. He asked me to ink them, saying they'll be used for an upcoming trading card set. OHMIGOD!! My first big inking job will be with Whilce himself! I felt like an amateur boxer whose first fight would be against Muhammad Ali in his prime. Those pencils will clobber me! I myself froze at the prospect of inking these drawings, and for half a day all I did was look at them, and I spent nearly a day just doing one of them. I was so careful not to make a mistake, trying hard to do it right. After inking one these I was pretty much exhausted. And it was on to the next one.