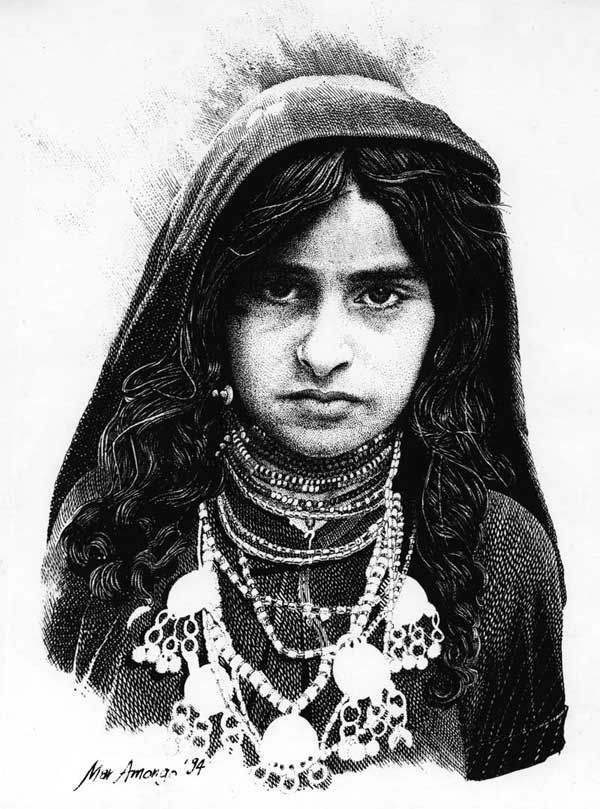 Mar Amongo
Pen and Ink Illustration, 1994
A biographical profile and a large gallery of Mar Amongo's work, a Filipino comics illustrator who passed away this month, has just been uploaded at the museum and can
be found here
.
The gallery includes artwork from Tagalog Klasiks, Romansa Komiks, House of Mystery (DC Comics) and various pen and ink illustrations from the early 90s.
Mar Amongo was laid to rest at Los Baños Cemetery in Los Baños, Laguna in the Philippines last Saturday, August 13.
*********************************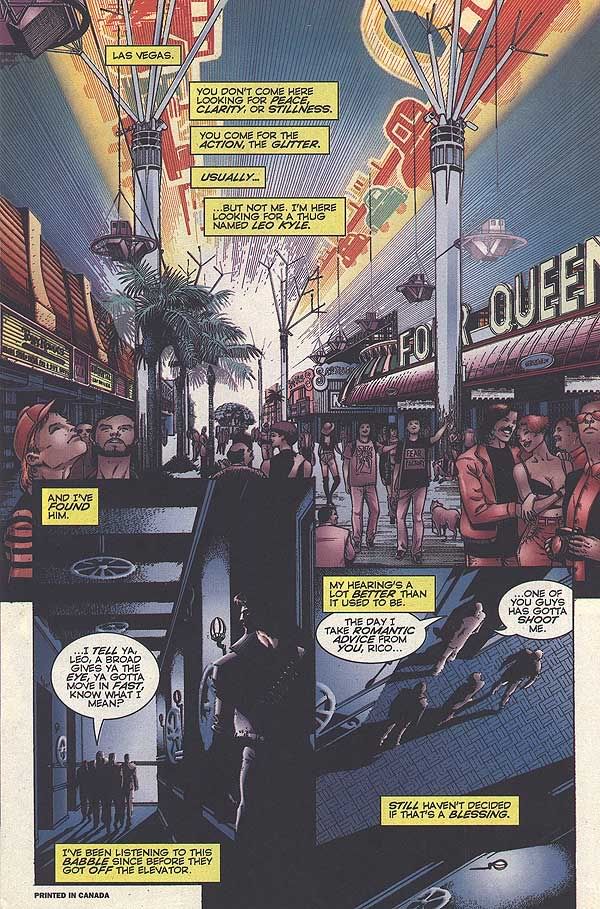 Inking Portfolio #8
Hazard #1, 1996
Wildstorm Productions
I was once again very grateful that
RoyAllan Martinez
allowed me to do the backgrounds on the first page of our new book, HAZARD, written by
Jeff Mariotte
. It was our first somewhat regular comics series, after serving as fill in artists on our past 2 assignments, Wetworks and Grifter. We were excited at the prospect of being at the start of a new comic book, being allowed to design the character and the environment in which he moved.
Roy's first design for Hazard was a huge ugly bruiser with a mohawk that looked mean enough to beat the shit out of LOBO. It was a great drawing by Roy and you can tell he was enjoying himself when he did it. Unfortunately, the design was passed on for a less over-the-top one. Nevertheless, we carried on, enthusiasm still intact.
Feeling perhaps that the story demanded it, Roy adapted his style to suit a more dark noirish one, evoking, as one of our editors mentioned, Jim Steranko. I don't think Roy was familiar at all with Steranko at the time, and I myself had seen his work only rarely.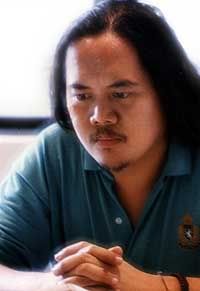 I was happy that I was able to complete this whole issue on my own, without other inkers coming in. Not that I would want to deny Ed or anyone else work, but I felt much more creatively fulfilled if I was able to complete a project from start to finish.
The photo on the right is one taken of me during this time. I think it was
Whilce Portacio
himself who took this picture. Looking at it now, I can't believe that I ever had hair that long!
At about this same time, a trading card I had inked over Whilce, this time of one of the characters of Gen-13 for a Swimsuit set, has also come out. I don't have a copy of that card so I can't share an image.
A few pages into inking this issue, we moved studios from our Mandaluyong condo to a huge house along Balete Drive in Quezon City. It was a pretty big house and naturally there were concerns that the house may be haunted. It was after all, located on a street known infamously all over the Philippines as a very haunted street. The move wasn't painless, but it was always a bit hard for me whenever I move residences. I am thankful that a lot of people, including one Tim Yap, helped us with the move and made the transition a lot easier.
By this time, the studio crew had significatly grown, and not all of us were comic book people. It was the start of a short period of my life which is a bit difficult for me to talk about because it had been so eventful, exhilarating, disappointing, and exciting.